Aural
Logitech Squeezebox Radio (or Grace Digital's Mondo)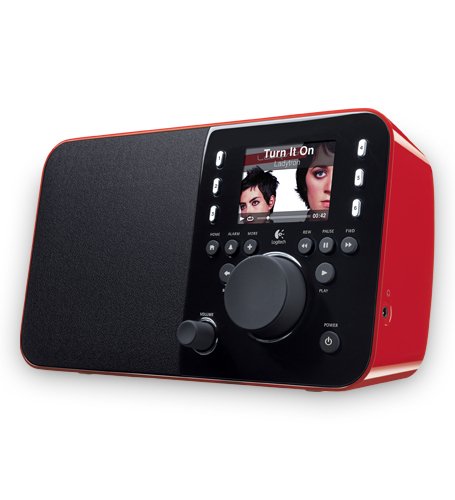 Wi-Fi music player tunes into free Internet radio stations and online music services,
I've found that this little internet radio, discontinued now for several years (but still available by eBay for about $100), is still a great way to get internet music sources out into the air. Logitech's Squeezebox Radio is a smallish desktop radio – except that it connects (via WiFi or Ethernet) to the internet – and gets your ears to the literally 1000s of internet sources, normal broadcast (over the net), internet-only, Pandora, etc. (Since it's discontinued, I include Grace Digital's Mondo, which I haven't tried yet myself but believe it's fairly equivalent and currently available.)
If you haven't yet looked at what's available over the net, it's truly amazing. The radio station aggregator, tunein (part of what the radio uses), is accessible via browser, too, so check it out. (Tunein is also what Sonos uses and it works well, nothing sketchy.)
On the other side of the 1000s of stations are presets & Favorites in the radio. So you can build up a list of, well, favorites without having to resort to a paper list. Saving some to the preset buttons makes a few even faster to get to, just like the buttons on a car radio. I've set some of these up for older people who aren't savvy about new tech, and they really love having the huge source variety right at their elbow. The specialty sources (old-time radio, international, talk, etc.) soothes even the most demanding tastes. And all the contemporary sources should satisfy everyone else too. It's a cool little gizmo.
09/1/16
Logitech Squeezebox Radio Music Player with Color Screen ($166)