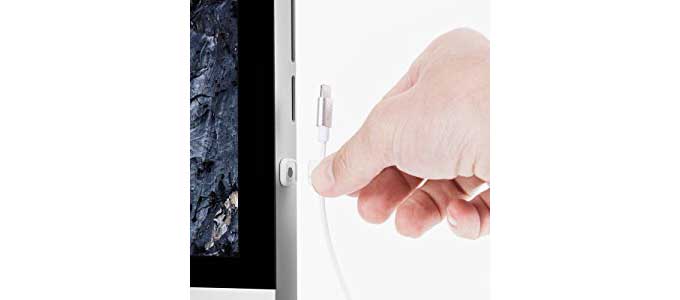 Keeps charging cables from falling behind desks and under beds
I've been using magnetic cable clip for almost a year. I like to use my phone at night but want to make sure it's charged in the morning. My charging cable kept slipping down to the floor, which would be annoying to get to while in bed. So I bought these and have found a bunch of uses for them since. I attached the base of one (with 3M double-sided tape, included) to the side of my dresser right near my bed and the other side is attached to my iPhone cable. The two sides attach together with magnets so when i'm not using the cable, I just stick it on there and it stays in place. It's a tiny item that blends right in and has been super convenient.
My next step is to use it at my desk so wires don't fall behind when they're not attached to my laptop. The only downside so far is that the magnet in the base has come out of the base a few times because the magnetic connection from the cable side is sometimes stronger than the tape. I'll probably fix it with new tape.
10/2/17
Sinjimoru Magnetic Cable Clip, 3-pack ($15)