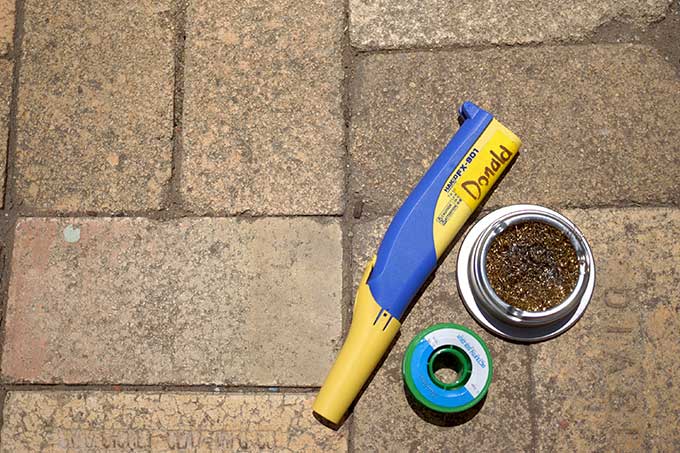 The latest in tips and maker projects from around the world
This week in Maker Update, a zoetrope and a fidget spinner make a baby, an SLS printer from Formlabs, a Raspberry Pi weather chamber, component carnage, and a tiny OLED Pi screen. Our featured Cool Tool is the Hakko FX-901 cordless soldering iron.
This is the Hakko FX-901 portable soldering iron. It runs off 4 AA batteries that you can swap out really fast with this removable cartridge design. I use rechargeables in mine and I get over an hour of use out of it before I notice the temperature drops. Alkaline batteries will run hotter, but not last as long.
Here's why I love this thing.
It gets up to soldering temperature faster than any plug-in soldering iron I own. From the moment I flip the switch, I'm usually soldering in 15 seconds. None of my plug-in irons do that. A soldering station might, but I haven't had the space or money to invest in those. And because of quick heat, I can conserve power by turning it on only when I'm about to solder, then switching it off.
I can solder where it's convenient. For most of my life I haven't had a garage or real workspace, so soldering happened wherever there was an outlet and a table. That usually meant burns on the kitchen table, bad light and bad ventilation. With this I can setup anywhere. I can do repairs outside. I don't have to sweat how long my extension cord is.
The design. There are so many little details to appreciate. It feels good in your hand. You can put the cap on when it's still hot and the cap locks down the switch so it won't accidentally turn on. The battery cartridge is quick to change out. The flat bottom allows it to stand up, so you don't have to worry about using a stand. It's a well designed tool and you can tell when you use it.
There are some drawbacks, though. It has a blunt, cone shaped tip that is a little clumsy for small electronic work. You can easily swap out the tip for one of their chisel tips but they're proprietary cost almost as much as the soldering iron itself.
The heat isn't adjustable and doesn't get hot enough to work with really thick wire, like automotive grade jumper cable wire. I use this out in the driveway when I work on electrical connections for my Go Kart, but I know that when I need to solder up battery wire I need to reach for my butane iron (or crimper).
Other than that, though, this is usually the first soldering iron I reach for in my house, regardless of the circumstance. Nothing else is quicker to start and easier to pack up when I'm done.
Full show notes available here.
06/7/17
Hakko FX-901/P Cordless Soldering Iron ($32)