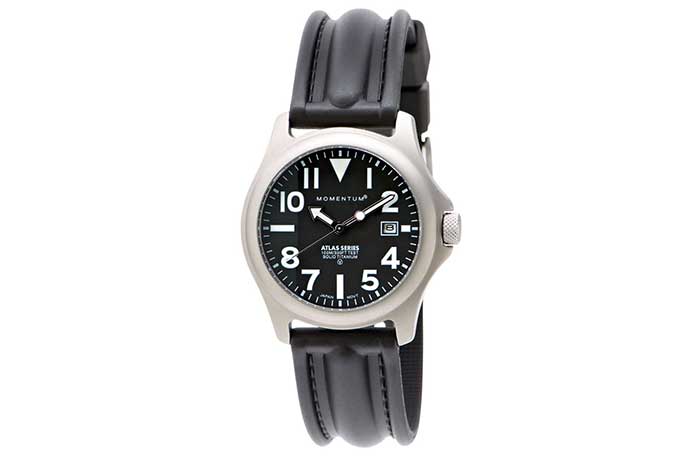 Ultra-lightweight titanium case with oversized super-luminous numbers
I checked for watch reviews on Cool Tools, and most of the ones I found are of either very simple and cheap or bulky and complex ones. There were no nice but simple watches. So, this review.
The Atlas 38 Wristwatch by Momentum.
– It is quartz analog.
– The 38 refers to the case diameter in mm., not including the lugs. It is approximately the size of your dad's Timex. It is not oversized, as is the current (or fading?) trend.
– It is not thick. It is just under 10 mm thick, so it will slip easily under shirt cuffs.
– The case is warm gray, matte-finished titanium.
– The face is a bold, readable, simple "field watch" style, similar to a few models from Hamilton and Casio. No dive bezel, no split-lap dials, etc.
– The face is available in black with white numbers, olive green with white numbers, or white with black numbers. In all cases, the white areas are coated with "lume," so they glow in the dark (pale green, though in ordinary light they look pure white.) Supposedly the white face one is particularly bright.
– The bands are available in leather, rubber, nylon fabric (in a variety of colors) and titanium links for somewhat more money.
– The crystal is available in sapphire for $40. It is slightly domed, for those who pay attention to those things.
– It has a date window at 3:00.
– The crown is screw-down, for added durability and water resistance. – And it is water-resistant to 100 meters
– (Momentum, formerly called St. Moritz, is a Canadian company known for high quality watches at reasonable prices. They are not well known because they aren't carried by many retail outlets.) I have the black face model with sapphire crystal and rubber strap.
The good:
– The watch has a striking yet functional, restrained look, simultaneously traditional and modern, that works (in my opinion) for both formal and casual occasions. It looks serious but not ridiculously macho. I have received many compliments on it.
– It is easy to wear. The titanium case makes it lightweight, so that often I forget I am wearing it.
– It is readable at a glance, even without my glasses, even from an angle. It is much easier to read than any digital watch.
– It is the cheapest titanium/sapphire watch I have found, $175 list with the sapphire crystal.
– The sapphire crystal is basically scratchproof. I have had mine for six years, and the crystal looks brand new.
– The titanium case develops a burnish on the high spots, and perhaps a scratch here and there. On the medium gray metal, both add character (in my opinion).
– It is obviously not a cheap plastic watch, but neither is it ostentatiously expensive.
– The rubber strap is (to me) the most comfortable. It is light and flexible. There are no sharp corners or edges, unlike a metal band. It doesn't absorb water like fabric, and it doesn't eventually disintegrate or discolor like leather.
– Battery life is very good. Mine lasted six years. (The watchsmith remarked on the quality of the movement, but I don't know what he was referring to.)
– It is quite durable. I have dropped it, banged it against things, worn it while using a sander and hammer drill, etc. and it keeps doing its job.
The bad:
– The rubber strap will eventually crack or tear slightly around the hole that you use most. A new strap is available for around $20, or you can get a Zulu or NATO strap for the full military look.
– It costs more than a $10 watch.
– It doesn't give you the temperature, air pressure, compass direction, tide level, moon phase or any other information. Just the time and the date. I don't miss those other things.
Conclusion: The Atlas is a simple, durable, easy to use, easy to wear, long-lasting, high-quality watch that looks serious, functional, and maybe even "masculine" without being ridiculous or ostentatious. Your significant other will not be embarrassed about it in any situation.
Alternatives: If people are interested, Momentum makes a number of alternatives worth mentioning.
– Steelix ($99) – Cheaper but with a steel case, and (to me) a slightly less refined look
– Atlas 32 ($135) – Smaller (the case is 32 mm wide.)
– Cobalt ($235) – large, 48 mm case, black ion-plated titanium and a slightly different face for more money
– Flatline ($185) – steel, with smaller numbers
– Pathfinder III ($225) – smaller numbers, but analog alarm and a separate seconds dial.
– Vortech ($285) – Big, GMT hand, plus an extra-loud alarm. (This is the one I lust after, though it might be too big for me. It looks like something a Swiss astronaut in 1970 would wear. Sqeeee!)
(They also make dive watches if you want to pretend to be a diver.)
08/1/17
Momentum Men's 1M-SP00B1 Atlas Titanium Watch with Black Band ($135)