Health
Natural Sea Wool Sponge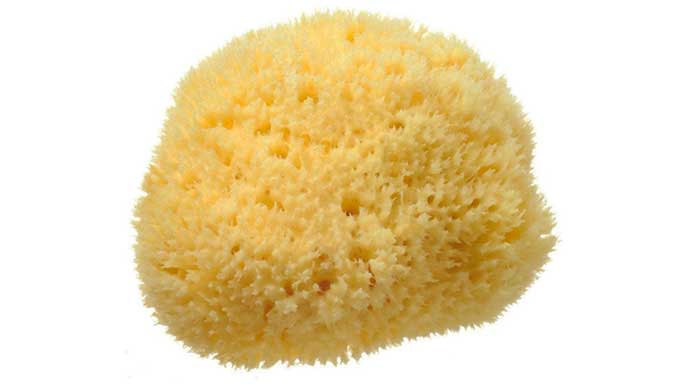 Better than a washcloth
I first became acquainted with sea sponges many years ago when I was working on the docks. In the old days, these sponges were standard lifeboat equipment, used for bailing water from areas that were difficult to reach with a rigid container. At the time, I wondered how these things that looked like a piece of worm-eaten drift wood could be used for anything besides bludgeoning a shark, but when the sponges are wet they transform to something entirely different. They are soft, pliable, and hold an almost unimaginable amount of water for their size. Sponges are still listed as nautical emergency equipment, though I doubt they still use natural sponges for that purpose.
Natural sponges apparently come in two varieties, one type is very dark colored, and has a more or less smooth appearance, but a much rougher texture, even when wet. The other type, referred to as "sea wool" sponges" are very light colored and have a much finer, almost feathery, surface texture. They look and feel like lambswool and are very gentle on the skin. I've been using this natural "sea wool" sponge in the shower for about a year now, and it's become one of my favorite things.
Like the old lifeboat sponges, sea wool sponges are as stiff as a block of wood, when dry, but become very soft when wet. I do not like washcloths because they collect body hair and just seem kind of gross. The sea wool sponge looks attractive, and I like the aesthetic of using something natural in my daily routine. These sponges are purported to be naturally anti-bacterial, and I believe it. Mine has never smelled like mildew, though all I do is give it a gentle squeeze to get most of the water out after use. They feel great on your skin and are a great way to gently exfoliate. It's tempting to get a larger size, but I prefer the smaller 5 – 6-inch size because it's easier to wring out.
Reviewers claim that these sponges last a few months, but I've been using the one I have for over a year and it still looks like it did the day I bought it. If you've never used a natural sponge, you will be surprised at how this sponge feels. It's very soft and at the same time a little abrasive. These are gentle enough for washing a new born baby, and firm enough for a grown man to feel like he's getting a thorough cleaning. Pair one of these sponges with a nice hand-milled soap to make a great gift.
05/16/18