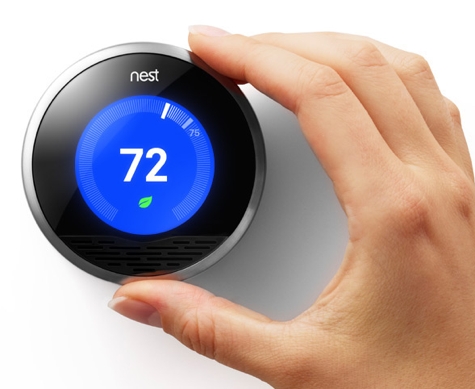 Hot and cool energy tool
Last year I replaced my old-looking but perfectly functional programmable thermostat with a better looking, WiFi-equipped model. The remote aspect of it was good. We could set "away" temps, and restore normal temps on our way back home. And the programmable part was always good – cool at night, not working so hard when we're at work, etc.
But even though the thing was from a "major name", it was a true PITA. While it worked most of the time, any time we wanted to tweak things, ugh. It was miserable. Then Nest came out with their Learning Thermostat.
I  recently put one in and it's well beyond what I was hoping the other might be. Superbly easy installation and activation, beautiful to look at, and as user-friendly as anything can be. It's still in learning mode which basically means it is figuring out our daily schedules. But so far they've thought of everything, and this has given me complete confidence in its long term purpose.
Nest also provides apps that allow you to control your thermostat from your iOS or Android phone or tablet. You can also track energy usage history, etc. At $249 it's a lot more than other thermostats, and so maybe not suited for everyone's budget. But I'll say it's more than suitable for any home. It's a beautifully designed and exceptionally functional thermostat that continues to do its job very well.
07/4/12