Kitchen
Over Sink Kitchen Drying Rack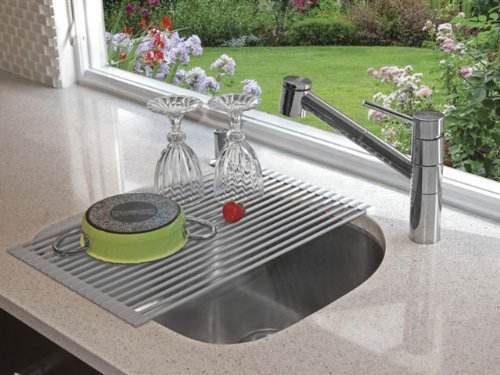 Dish mat unrolls above an open sink for air-drying washed items
I hate big, bulky dish-drying racks — and so does my small kitchen. I've been using drying mats on the counter, but they also take up space, are never quite large enough, and can mildew on the bottom if you're not careful about drying them out every time.
This rack, over one side of my double sink, creates a handy drying rack over an area I wasn't really using much anyway and keeps the moisture off my counter and back in the sink where it belongs. It's cleverly constructed out of silicone-coated stainless steel rods, connected at both ends with a thick silicone band, so it rolls up easily if needed. As long as you have good support at both ends, it's quite strong and holds a huge pile of pots, dishes, and utensils; I put my 14-pound cast-iron dutch oven on it and it barely flexed.
The grippy silicone helps keep items from sliding off or chipping, and also keeps the rack from sliding around. Mine stays secure even though one end of it barely fits on the rolled edge of a bull-nose tile — but the other end is up against the back-splash, so it's not going anywhere.
It's also handy to drain vegetables or hold my cookbook to keep the counter clear. If you need to access the sink under it, you can roll part or all of it out of the way easily.
It's also dishwasher safe, BPA free, and heat resistant up to 450 F, so you can use it as a trivet…I've even considered cooking bacon on it in the oven over a baking sheet (it should work, and keep the bacon less greasy) but I haven't quite worked up the courage to try that yet.
One thing it won't do is hold plates upright to dry, like a regular drying rack. They'd slip right through, or tip over. Everything needs to be laid flat…but since this was what I was doing before, it's no hardship.
MEASURE YOUR SINK CAREFULLY. There are quite a few different sizes and colors of this item, by multiple manufacturers; this one is one of the longest (20.5″) and fits my sink perfectly, but your sink may vary. Figure out what measurements you'd prefer, then do a search using those dimensions to find the rack that fits best. Measure twice, buy once! If you need a dish-drying area, but would rather do without bulky dish-racks on your counter, this may be the perfect solution!
06/10/21
Stainless Steel Over Sink Rack