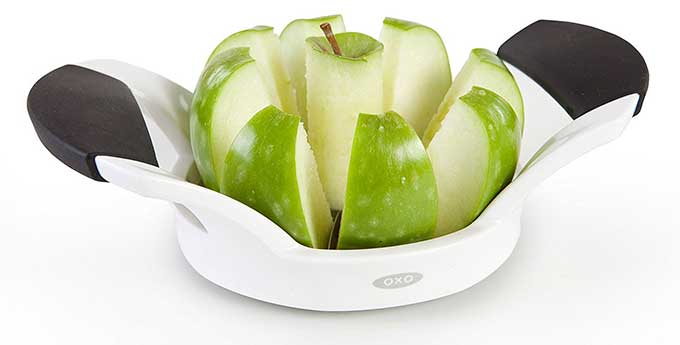 Healthy snacking in 30 seconds
I like apples but I've never been a fan of the form factor, which tends to be tough on the teeth and jaws. The OXO Apple Divider ($10) cores and chops in one fell swoop. Total prep time, including rinsing the apple beforehand: 30 seconds max, 20 if I'm in a hurry. Like other OXO products I've tried, the OXO Apple Divider is a well-designed, well-built version of a classic tool. The company's included its trademark "good grips" and sharp blades.
I appreciate it every time I use, it because I'm a chocoholic with easy access during the day to cookies and hot chocolate. Bringing a plastic container filled with wholesome, fresh, organic apple chunks makes it easier for me to resist the lure of chocolate. Even if you don't consume apples as frequently as I do, the OXO Apple Divider is one single-use tool that's worth keeping around.
— Jonathan Steigman
We we bought this and use it regularly on potatoes to make oven fries. Slice the potato, toss the pieces in olive oil and spices of your choice, and bake on a non-stick sheet for 20-30 minutes at 450F, turning once. I didn't even know this device was actually for apples until I saw it on Cool Tools!
— Julee Bode
07/13/18
(This is a Cool Tools Favorite from 2007 — editors)