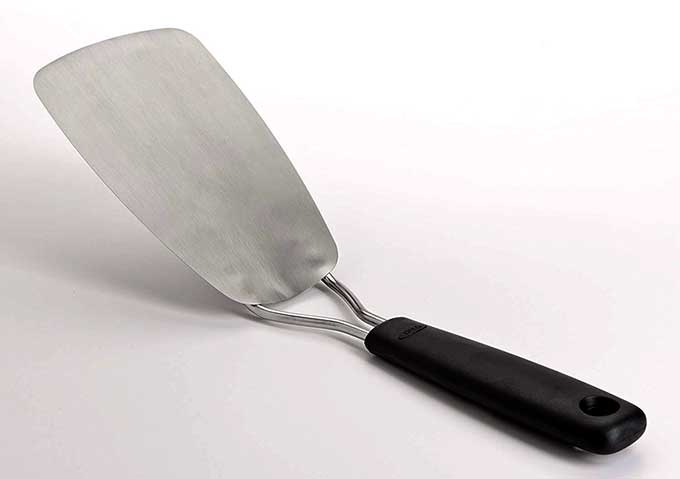 Versatile spatula for delicate foods
This is one of those "why doesn't everybody have one?" tools — at least, everybody who cooks or bakes. You know all those times when your spatula left most of the lovely crispy bits — crispy browned rice, for example — stuck to the bottom of the pan? Or smooshed up something delicate, like a fish fillet, instead of picking it up cleanly? Or you couldn't work your spatula between the side of the pan and the edge of your lasagna, and so left the gloriously cheesy crust stuck to the side of your cookware?
This spatula (OXO Good Grips Stainless Steel Flexible Turner, $10) is the answer.
The blade is strong, but thin and very flexible. You can't use it on cookware with a non-stick coating, of course, but for metal, glass, or enamel pots and pans it's great; it also works nicely with those silicone or teflon non-stick sheets you put on your sheet pans to keep things from sticking.
You don't have to wait for the first batch of cookies to firm up before taking them off to cool, for example; this spatula slides easily beneath them and picks them up without inadvertently squashing them. It's particularly helpful for turning or removing fragile foods from a cast iron skillet, such as eggs over-easy or fish fillets, which would otherwise tend to stick or break apart.
They come in two sizes, so decide which works better for you. I've had my medium-sized turner for 6 years, and it shows no discernible signs of age. It's easy to clean and dishwasher safe. A couple cautions: since the blade is quite thin, it might be possible to pop the welds if you put a whole lot of pressure on it; also, it's designed to flex up from the handle, not to be flexed backwards when you're holding it upside down. You're a lot more likely to pop the welds if you do that — so don't, and it will serve you well with normal use.
Another company, Ateco, makes a similarly flexible stainless steel pie spatula ($6) that's triangle shaped, which Amazon also carries; I've never found a better way to get the first slice of pie (or a slice of a round cake) out neatly, so if you do a lot of baking you might want to consider getting both. Ateco also makes a matching "cookie spatula" similar to the OXO, but with a metal handle; it's also highly rated, so if you'd prefer your set to match and nest more easily in storage or on a hook, you might want to get both of the Ateco spatulas.
06/28/19
OXO Good Grips Stainless Steel Flexible Turner ($10)