Paper World
Parker Jotter Ballpoint Pen with Space Pen Cartridge Refill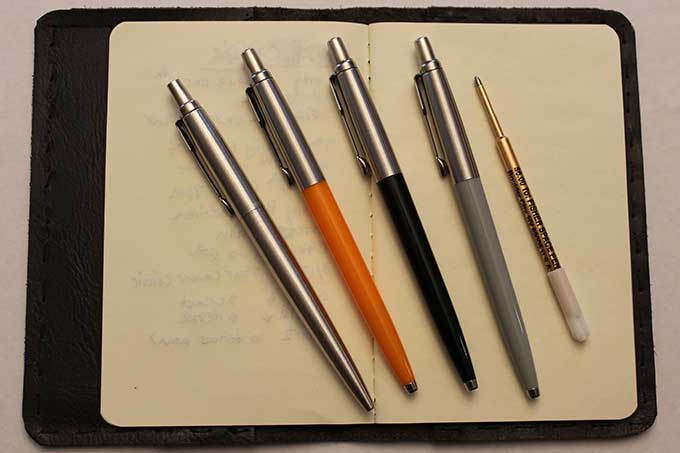 The classic ball point pen with an upgrade
For over 3 years I have carried the Parker Jotter pen as my daily use pen. The cost of the pen starts at only $8 for some models which makes this affordable for almost anyone. The Parker Jotter has an excellent feel when writing compared to even the most expensive pens in my collection. I prefer the all stainless steel model but have several of the less expensive plastic versions which come in assorted barrel colors.
Shown in the picture with my mini notebook is a few of my pens along with the space pen refill. I have these pens stashed in various bags, vehicles, and other strategic areas where writing often occurs. Some purchase options even come with dual barrels so the barren can be swapped out given your mood for the day. This pen is perfect to have stashed in a pocket as it can be ready for writing with a single click of the barrel easily accomplished with only one hand.
A couple of years ago I refilled the Parker Jotter with a Fisher Space Pen refill which is a pressurized ink pen refill and have continued to do so since that day. This pressured ink pen refill prevents the pen from leaking as well as providing consistent ink flow in any writing condition including wet paper. As a left handed writer this ink refill works with minimal ink smear as my hand passes across the writing surface immediately after fresh ink is laid on the paper.
03/4/18
Packer Jotter Ballpoint Pen ($7+)