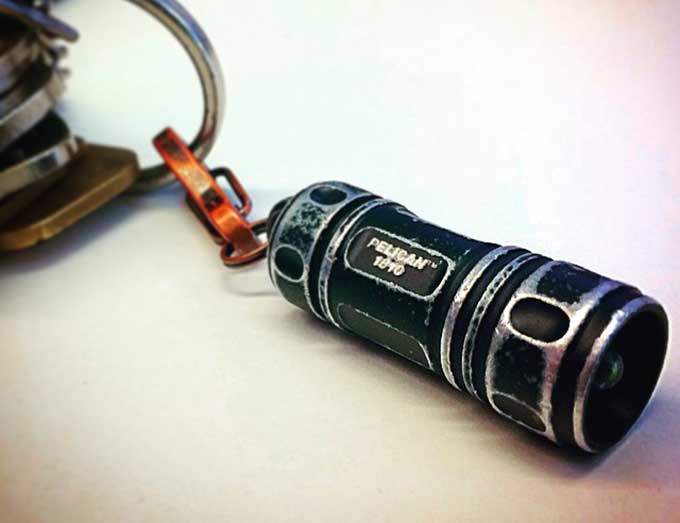 Best keychain flashlight
There are quite a few key chain flashlight reviews on this site. And before I added another, I wanted to make sure I put this one to the test (although I wanted to put up a review of it the moment I saw it online as it has everything I'm looking for in my everyday carry flashlight). And, after a year of use, I feel even stronger about my recommendation for this light.
Here's why:
– It fits on my key chain (a small, symmetrical tube). It can easily disconnect from the rest of my key chain, but not so easily that it falls off. The flashlight is connected to a split ring, and the split ring connects to a sturdy clip. It has just the right amount of play so it moves easily but doesn't get in the way.
– It hasn't turned on unexpectedly. With some other key chain flashlights, the "on" switch gets activated accidentally, and the battery runs out while illuminating the inside of your pocket. For this one, you twist the cap and the body closed to turn the flashlight on. I was a bit worried about the cap and the body separating. But, evidently, so was the designer. There are a LONG set of threads inside the barrel, and you really have to give it quite a few turns to separate them.
– There is only one mode. It's on or it's off. No low. No blink. Which is exactly the sort of "no fiddling" I want when I suddenly find myself in the dark and am trying to figure out what the heck is going on.
– It's small, light, and durable. I'd forget about it if it wasn't so useful.
– It's bright and has a good angle. For its size, it puts out a nice amount of light, and a not too wide or too narrow of a beam.
– The battery has lasted a long time. Been using it for most of a year, and the batteries are as good as the day I got them. (It did dim a few months ago but I took the batteries out and put them back in again, and good as new.)
– It comes in black. And the powder coating wears off in the most satisfying way. I like to think it looks like a prop out of a sci-fi movie now.
– It's made by Pelican Case, who seems to know a thing or two about making durable, usable products.
– At around $10, it's the right price for a piece of gear that my life could depend on, but if I happen to lose, the crying will be over the loss of a trusty piece of kit, not the loss of a small fortune. And believe me, this is something that I will replace with the same item immediately if it's ever lost.
08/3/21
Pelican Progear 1810C LED Keychain Flashlight