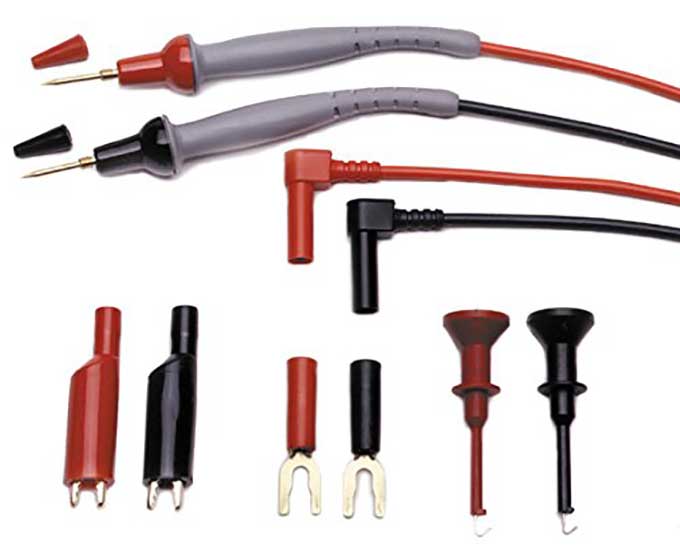 High quality multimeter test leads
As an instrumentation specialist by trade and an electronics hobbyist in my free time, I use a multimeter fairly often to make test measurements. While the standard leads that come with a multimeter work fine, I've found the 8000 Series test leads from Probe Master to be superior. The 8000 Series leads come in packages ranging from just the leads themselves to kits with wide-ranging connection types.
I've had the 8043S kit at home for several years and have more recently purchased the 8043SK kit at work. The leads themselves are of very high quality. The silicone cables are high temperature resistant and a lot more flexible than those that typically come with a multimeter. They are gold plated and have plastic shields that screw on for safer measurements.
However, what really separates them from the typical leads is the sharpness of the tip. They are needle-sharp. This allows one to get into tighter spaces, particularly when measuring properties on IC pins and small components on surface mount boards. The sharp tips are also very useful for making measurements on sealed boards. I recently had to make some repairs to a board that had been sealed with a clear silicone treatment. The probes poked through the silicone and made the measurements easily. I tried using some standard probes and they were not able to get a good connection through the silicone.
With the 8043SK full kit, there are a lot of very useful probe tips for a variety of measurements. There are alligator clips, spade lugs, a couple of different pincer hooks, and what I love the most, wire wrap leads. These are basically female ends that can be used to test pins in connectors. Best of all, the leads are less than $20 and a full kit is less than $50. They are well worth the investment, in my opinion.
04/14/20
8000 Series Test Lead Kit