Health
Revlon Twist and Clip Toenail Clipper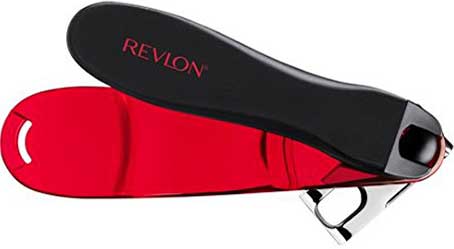 Comfortable clipping at any angle
I've been using this newfangled nail clipper for a couple of months now and so-far, I'm impressed. This is especially amazing since I'm fairly picky about these devices, and this one is so inexpensive. It's list of features is impressive:
Inexpensive (~$5.00)
Swivel head (makes it easy to hold while clipping)
Good Leverage (wide, long, flat lever)
Molded to fit one hand (finger indent, adds control)
Stainless Steel (simplifies washing)
Solid build (good blade alignment & should last)
The blade cutting surfaces are quite unique. Not only do the two blades come together in a nail-fitting curve (like 90% of these), it _also_ curves in the perpendicular perspective. This allows very fine control of catching just the littlest bit of nail you want to clip and is not found on any other clipper that I've seen or owned. It's interesting that the description of the tool in online ads doesn't mention this interesting double blade-curvature feature. It allows greater control of exactly the littlest bit of the nail you're attempting to cut. Neat! (pun intended). Note that there are loads of swivel-head versions out there, but this one is unique in all its features.
02/6/18
Revlon Twist and Clip Toenail Clipper ($5)