Workshop
Ridgid 10 in. Pro Jobsite Table Saw with Stand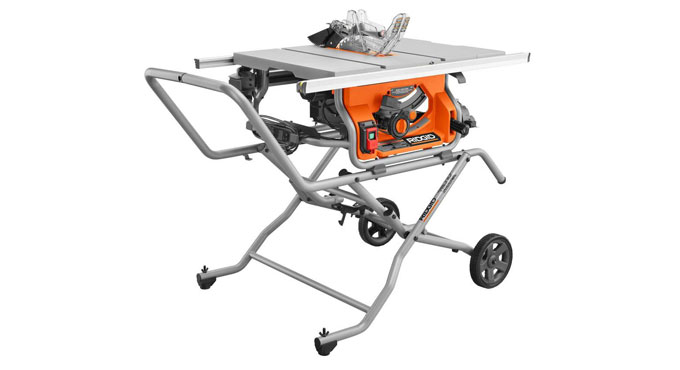 Heavy-duty 5000 RPM saw
A table saw is a tool that is often underappreciated or forced out of small shops due to the size (and cost!) of most high-end units. I agree that most jobs can be done with a circular saw, but it is nearly impossible to replicate the precision and repeatability of a table saw, particularly when making multiple parts. I have used Ridgid 10 in. Pro Jobsite Table Saw with Stand ($399) for the past 7 years at my job, where we had little space for tools that aren't used frequently and we dutifully abused it when it did get used (we often ripped 5/8″ thick 4'x8′ sheets of aluminum for tabletops with zero issues with a Freud aluminum blade).
The great part about this unit is that it folds down to 30″ wide by 24″ deep and is easily tucked up against a wall or behind a larger machine. As an added bonus, folding it dumps out any sawdust (or aluminum shards in our case) into a pile on the floor, making cleanup a breeze. This saw has a strong motor (15A) and an accurate, solid fence that feels much more sturdy and trustworthy than the fences on competing saws. I like using the saw so much that I purchased one for myself. It also has large wheels that make transport a breeze, even on rough surfaces.
I don't have a garage, so I keep the saw in a shed and wheel it over 500ft of grass to the driveway when I need to use it without issue. It also boasts a lifetime free parts and service when you register it, which I haven't had to use, but like the peace of mind that if anything breaks, it shouldn't be an issue.
02/22/21
10 in. Pro Jobsite Table Saw with Standby Ridgid $399