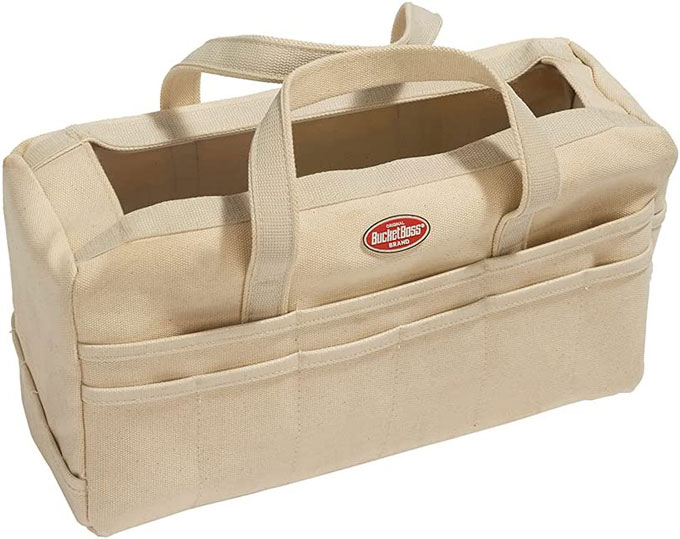 Traditional Rigger's Bag design with 30 pockets
I've used this Harbor Freight Rigger's Bag as a book/writing tote for about 10 years. It sits, folded up, on the bottom shelf of my study until needed.
I work in a field that requires me to occasionally carry 3-4 large books (usually hardback) on a single topic. Some of these books can be over 1000 pages and are pretty thick. I can carry them easily with the Rigger's Bag and even include my Macbook, journal, or legal pad as needed.
When called for, I dedicate the Rigger's bag to offline use (books, pens, and paper) and then carry my laptop, tablet, and peripherals in a separate backpack. For example, the backpack stays in the car while the Rigger's bag goes to the library or coffee shop. This allows me to be more intentional in my writing. I'll tackle a first draft or outline on pen and paper before the potential distraction of going online.
Other things I like: 1) It stands firm in the floorboard of my car without tipping over during commutes. 2) The shorter height means books are easier to see than a typical book/boat tote. 3) The 18 tool pockets are perfect for pens, pencils, highlighters, etc. 4) It's about the height of a standard commuter mug, so one can easily carry a drink in a pinch (I use a locking mug). 5) It almost makes me feel like Adam Savage, and his NASA-inspired EDC bags.
I don't see this same bag for sale at Harbor Freight right now, so hopefully, they'll be back in stock soon. The closest equivalent I can find right now is the 17″ Bucket Boss Original Rigger's Bag (60002), which is available at Amazon and Home Depot. Duluth Trading also sells a similar bag. 
01/18/23
Bucket Boss - Original Rigger's Bag - Natural, Tool Bags - Original Series (60002)