Craft
Rio Grande Tools and Equipment Catalog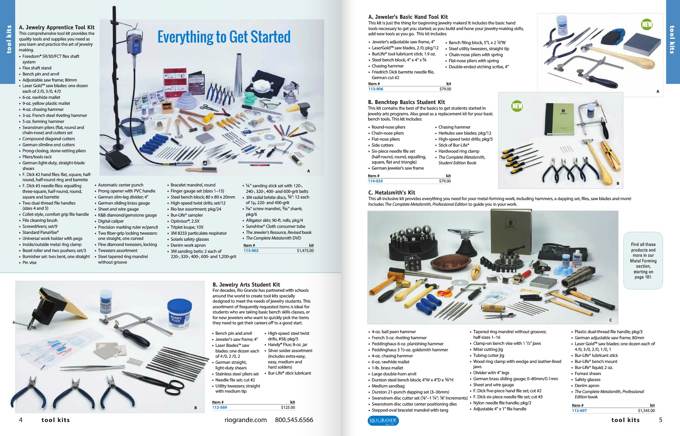 Jewelry maker and hobbyists tool catalog
Rio Grande's 770-page catalog of tools and equipment for jewelers covers an impressive range, with specialized tools for all facets of casting, enameling, setting precious stones, welding, and nearly any operation involving the design, creation, repair, and cleaning of jewelry or other small-scale metal.
Many tools would easily be useful in other areas (precision metalworking, model making, etc.) but even with those that are specific to jewelry, it's just neat learning about micro laser welders or equipment for highly-detailing casting.
We got the catalog after ordering supplies for an enameling class we put on for our co-housing neighbors; looks like the catalog is $10 to order by itself, with a $10 credit good towards future orders. The entire catalog is online for free, of course (they sell frickin laser welders after all), but the physical catalog is very pleasing to page through, not just to learn about cool tools but also to provide an education in the current and past methods of metal fabrication on a tiny scale.
02/29/16