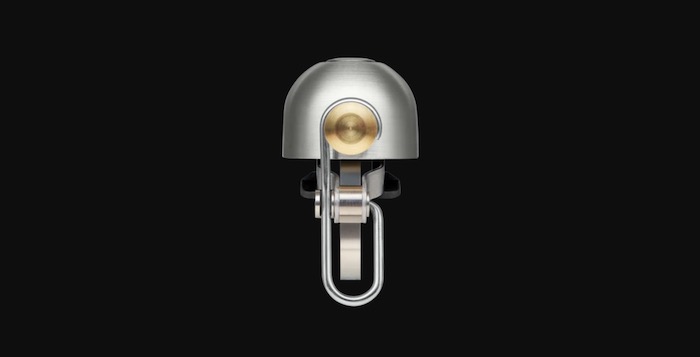 Gives notice well in advance with a loud, convincing tone
Last year when I bought my first bike, I purchased a bevy of the usual accessories- a helmet, bottle cage, rear light, U-lock, minor maintenance tools, and a bell. The latter was particularly important as I ride exclusively in the city and need to alert fellow cyclists and pedestrians while passing.
While there is a plethora of quality choices for most accessories, it was maddingly frustrating to procure a quality bell (i.e. loud and durable). You only have to peruse the online reviews of any major bike retailer to identify recurring issues: plastic parts that break after a few months use, chimes that don't actually get anyone's attention, mounting systems that are difficult to install (or limited to certain handlebars, or don't stay put).
Considering that bikes routinely incorporate high-end technology such as carbon-fiber, it seems incredulous that a simple safety accessory like a bell is stuck in the stone age. I don't remember how I came across Spurcycle (I probably googled "best bike bell" and read every list), but their 'Original Bell' is utterly fantastic.
It's entirely made of metal so there's nothing to break. The reassuring heft to the spring lets you know it's built to last forever. It includes two mounting clips (with different diameters) and only requires a 2.5mm hex key to install, and doesn't shift afterwards. Most importantly, the chime is loud, shrill, and carries over distance. People literally jump when they hear it, even if they're absorbed in their smartphones. A few week ago I remember a woman meandering across a mixed-use path while talking on the phone. Coming up behind her I wasn't sure if I could pass safely, so I rang my bell about 20 ft away and to my surprise she jumped off the path into the grass even before turning around. A few days ago a man walking down the middle of the road (why?) crossed an intersection in front of me without looking. Naturally he was using his smartphone and I couldn't make eye contact. Again, I rang my bell about 20 ft away and he practically screamed as he shuffled back to the curb.
For the record, it's not my intent to startle people but sometimes that what it takes to avoid a collision, and in that regard the bell does exactly what it's supposed to do. The only objection is the price ($50), but if I'd rather buy one expensive quality product than replace three cheaper inferior ones. It's certainly worth a premium to avoid the injuries, damages, and potential litigation following an avoidable collision.
I will definitely be installing the same bell when I eventually upgrade my bike, so I think of it as a long-term investment. It's made in the USA and comes with a lifetime warranty. NB: Spurcycle has just released a cheaper 'Compact Bell' model that incorporates nylon parts, only fits certain handlebars, and is made in Taiwan. I haven't tested it personally but for the $10 difference I think you're still better off with the 'Original Bell' model.
05/11/20
Spurcycle Original Bell ($49)