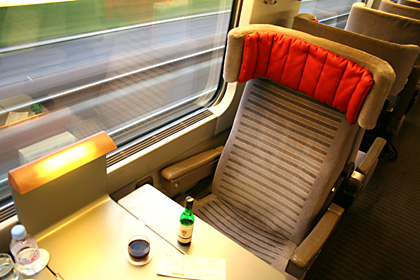 Best source for train travel
Train travel is often the best way to get from A to B. It's civilized, often as fast as flying or faster, and comfortable. But navigating the train schedules and idiosyncracies of train systems around the world is often beyond possible. The Man in Seat 61 is your answer to train travel. A energetic British train enthusiast, Mark Smith, has created a vast website which has become the clearinghouse for train travel world wide. I have used The Man in Seat 61 to figure out and book intercity trains in Vietnam, China, Japan, and Europe. Just about every schedule train in the world is recorded here. For many third world countries, like Burma or Sudan, his website is the *only* place these train fares and schedules exist. For all the countries of the world he does not just list timetables but provides extensive counsel on what each train is like, even recommendations of particular cars or seats to take. The amount of information and guidance is bottomless and priceless, yet the site is free. (You still book directly with the train companies,) If you are contemplating an epic train journey anywhere, or even a short train trip in a country new to you, The Man in Seat 61 will be your best friend.
04/28/17
Excerpt
Excerpts:
What's the journey like?
Buses may be faster, but the Slow Train From Thazi is a wonderful experience which should not be missed. Stock up on mineral water and beer, then recline in your Upper class armchair (you may have no choice - the recline mechanism may be broken), and gaze through wide open windows at the wonderful scenery passing by at just 15-20 mph.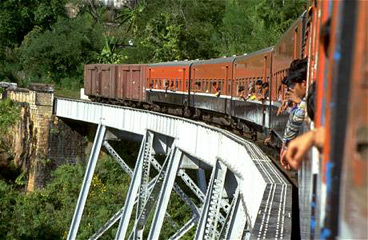 *
Europe to Australia without flying...
It's a long way to Oz.  There are two options to get there from the UK without flying:
Option 1, Europe to Australia via the Trans-Siberian Railway.  You can travel by train from London to Moscow, then by Trans-Siberian Railway to China & the Far East, then catch a passenger-carrying freighter (if you can find one!) or cruise ship to Australia.  This is a real adventure, and a popular choice with lots to see on the way.
Time-wise, we're talking 4-5 weeks one-way, minimum.  But it's a journey of a lifetime...
Travel tickets alone costs only £750 or so from London as far as Singapore, but you must add food, hotels, and tours along the way.  The links below cover travel in either direction, from London to Australia or Australia to London, follow the links to see details of prices and timetables for each section.