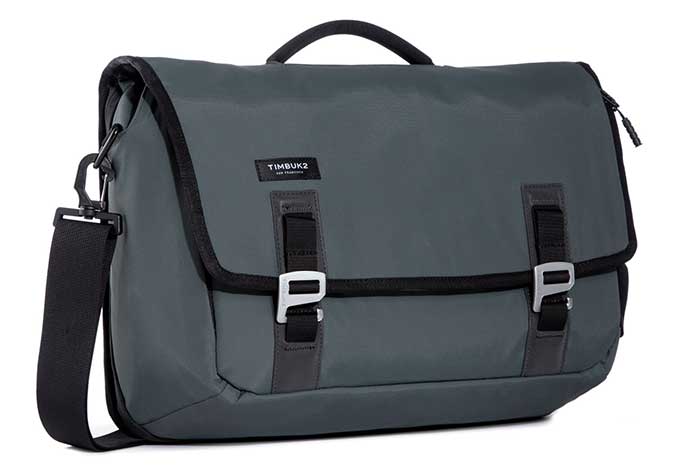 Well designed bag for gear, gadgets, and a laptop
Yes, this is another bag review. But it's exceptional to me because I feel like I've been searching for the right bag for years and have finally found it.
Like many, I commute to work and carry my laptop. I also bring my lunch to work, and like to carry an assortment of cables and chargers and small tools so that I'm prepared for most situations. I also like to have something that looks respectable for an office environment, not something that makes me look like I'm a camper or bike courier. In the past, I've either had messenger bags that looked nice, but didn't have enough pockets to provide organization or that had enough pockets but didn't look nice.
The Command Messenger from Timbuktu has a perfect placement of pockets and functionality and looks great while doing so. Unlike other laptop bags I've used, the laptop goes in a special pocket in the back of the bag, making it easy to retrieve even if the main compartment is stuffed. Similarly, there are a bevy of pockets on the outside to quickly retrieve things like a sunglasses case or a phone charger if you need them.
The laptop compartment is also TSA compliant, meaning that it zips open and lays flat for security screening so that you don't have to take your laptop out of the bag. Oh, that back compartment also has a special pocket for an iPad. The main flap has Velcro enclosures at the sides that automatically close up to prevent rain water from getting in. And you have the option of closing the flap with Velcro, or silencing the Velcro with special straps if you don't want to make noise while opening and closing it. If you really want it firmly closed, there are metal hooks that you can use to fasten it down.
The strap has a really neat feature that lets you quickly adjust the length while wearing it. This means that you can keep it loose for taking it on and off easily or retrieving something from it while wearing it, and then quickly tighten it up so that it sits snugly against your back, taking strain off your shoulders and not swaying around as you walk.
The build quality is very impressive, with double and triple stitching in areas that are likely to show wear. I'm hoping this bag will last me ten years or more
05/10/17
Timbuk2 Command Laptop Messenger Bag ($80)