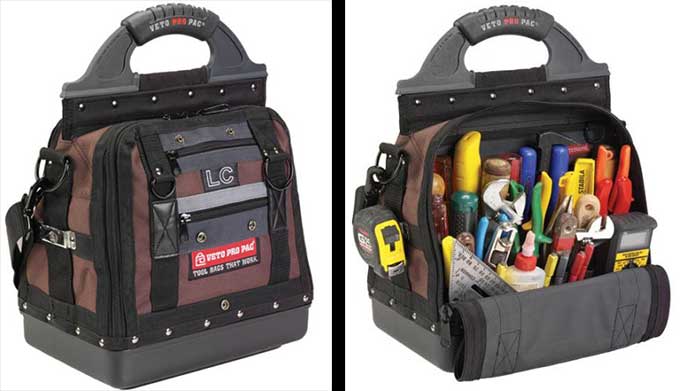 Heavy-duty tool portability
This is by far the best tool bag I have ever owned. I am an Espresso machine field service technician and I use this bag every day. I purchased the LC version about a year ago and it doesn't show a single sign of wear yet. In the previous 6 years I had completely worn out 2 different other tool cases.
The Veto just feels right in your hand or over your shoulder. The quality of construction is simply amazing. A molded polypropylene tray forms the bottom, the sides are 1800 denier nylon which is doubled up in many places and secured with double stitching. The bottom and handle are attached with rows of rivets, and the the zippers are massive. The large handle is attached directly to the center divider so that all the weight is carried by the center divider and end panels. There is no weight carried by the side panels and zippers. The bag comes with a wide padded shoulder strap attached with rugged metal swivels. The Veto bag is divided into two identical half's. I keep my tools in one side and my electrical meters and plumbing hookup parts in the other. I like that this bag completely zippers closed. I don't like the new trend for bags that are covered with external pockets, I want to know my tools are safe and secure.
Veto make two other sizes, an overall larger bag and a low-riding long one to hold carpenters tools.
01/8/18
Veto Pro Pac Model LC ($180)