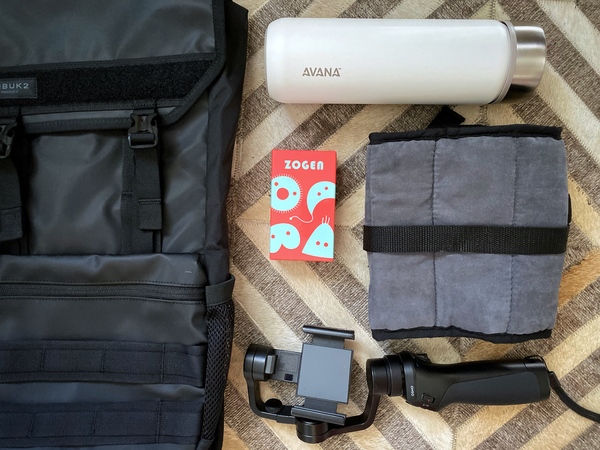 What's in my bag? issue #24
Sign up here to get What's in my bag? a week early in your inbox.
Anita Sarkeesian is an award-winning media critic and the creator of Tropes vs Women in Video Games, a critically acclaimed video series exploring the history of women's representation in gaming. You can find her every week on her podcast Feminist Frequency Radio. She is on Twitter @anitasarkeesian and @femfreq.
DJI OSMO Mobile Gimbal ($177)
This is the original OSMO Gimbal for mobile phones (there is a newer version available) that I use if I ever want to capture long form videos while I'm on the road without lugging around a ton of equipment or a heavy camera. I'd love to upgrade to the OSMO Pocket that has a built in camera, so no need to fumble around making sure my phone is balanced correctly each time I want to capture a scene.
Portable Foot Rest/Hammock ($20)
It took me a long time to stop being embarrassed at the thought of using a foot hammock on a plane. I travel so much and it's starting to take its toll on my body. I find that my feet are constantly falling asleep on longer flights (and compression socks don't do much for me). This little hammock just slides on the back of the tray table and gives my feet and legs support. I'm exclusively an aisle sitter and I've never found it to be in the way for middle or window seat passengers trying to get up. I finally accept that I am now that person because it's absolutely a life saver on those long flights. (NOTE: the version Anita bought is not available anymore, I have linked to a similar product.)
Zogen by Oink Games ($17)
I adore these tiny table top games from Oink Games. They are packaged in little boxes that are super portable. I usually keep one in my bag when I'm traveling cause you never know when you find yourself in a situation with friends, new or old, to play some games together.
Avana Beckridge 25oz Water Bottle ($40)
I confess that this was an extremely indulgent purchase. It's pretty pricey for a water bottle, and while it's all stainless steel on the inside, it still has a plastic lip and straw which I typically try and steer away from. However, I'm so pleased with this purchase. The internal straw is attached to a lip allowing you to merely sip on the bottle without tilting it up which means no more spilling water on myself if I'm driving or walking or just clumsy that day.
About the bag
Timbuk2 Rogue Laptop Backpack ($80)
I feel like I might perpetually be on the hunt for my perfect traveling backpack. This is my first trip with this bag so TBD on if it's a winner but it has all the elements that I am looking for: front pocket that is separate from the main body of the bag, a water bottle holder on the side, and a flip top for those times when I over stuff and need a little more give.
11/20/19