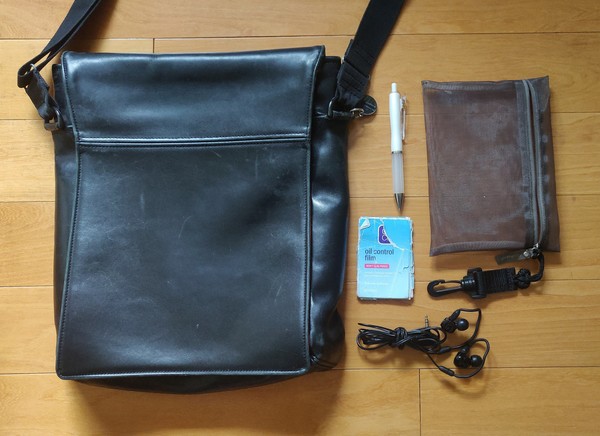 What's in my desk? issue #108
Sign up here to get What's in my bag? a week early in your inbox.
I'm a Hong Kong–based writer, photographer and diver. Each activity has a separate bag, but commonly used items are carried in a mesh pouch that moves from my briefcase to my scuba kit and the backpack that carries my photo gear. — Christopher Dillon
My briefcase is a WaterField Designs "Muzetto" [pictured], the backpack is a 5.11 Tactical "Rush" and most of my dive gear fits into a Pelican "Air 1615".
Johnson & Johnson oil control film. Perfect for unexpected video interviews and portraits.
Audio Technica ATH-IM50 earphones tick all the boxes: Good sound quality, durable construction, comfortable and good background noise isolation. A wire "hanger" keeps them in position when you are in motion. Cheap enough that I don't worry about losing or damaging them. Japanese import.
Zebra Airfit ballpoint pen. Pre-Covid, I used to travel regularly to Japan. No trip was complete without a visit to Itoya to stock up on pens and other supplies. It's "kid in a candy store" territory for me, because Japanese manufacturers understand the tactile nature of writing, even with inexpensive pens.
The mesh pouch was originally a Scandinavian Airlines in-flight amenities kit. The snap, which lets me hang the pouch from a loop inside my briefcase and backpack, was re-purposed from packaging from an underwater fiber optic cable.
06/30/21