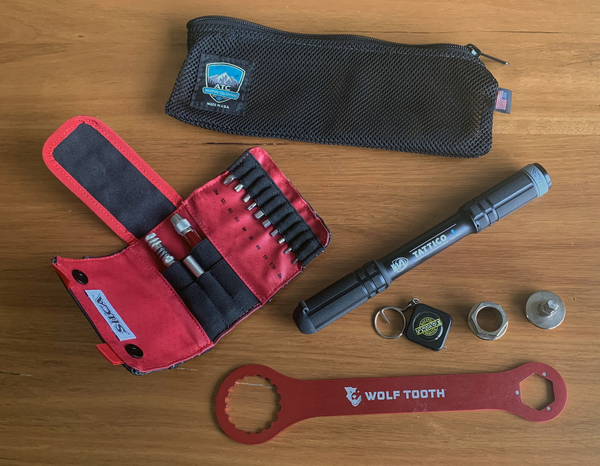 What's in my bag? issue #30
Sign up here to get What's in my bag? a week early in your inbox.
Dave Rome is a tech editor at CyclingTips.com and a former editor of the British publication BikeRadar.com. Formerly a bike mechanic, Dave covers the technical side of all things bicycles through writing, photos, podcasts and video. You can find him sharing his passions for cycling and hand tools on Instagram at @romeandstuff.
About the bag
This is my lightweight cycling tool kit for travel. It's what I take with me when flying with a bike, or when attending a bike product launch where I'll need to setup a new bike to a familiar baseline. The Colorado-based company sell them in sets of four, and this particular one is 11in x 4in. It's made of a super tough mesh (same as what load-bearing tactical vests use), tripled sewn and edged with binding tape. In other words, they're stronger than they look.
What's inside the bag
This tool kit packs a surprising punch for its size. It's a modular ratchet with a range of useful and often-needed tool bits. It can be used as both a T-handle or regular ratchet, but the real trick is its torque wrench function. The torque wrench rod allows me to accurately and safely tighten bolts anywhere between 2-8Nm — something that's especially important given I'm often riding high-priced carbon fibre racing bikes that aren't my own. (Review on CyclingTips.com)
This aluminium handle weighs almost nothing and allows me to remove the disc brake rotors from my bike wheels for safer travel. The opposite end is designed for the company's steel sockets, one of which is a 8mm hex key for use on pedals. It's a compromise-free tool that offers great leverage while being lighter and more compact than anything else. (Review on CyclingTips.com)
The more you ride the more you realise how important bike fit is. I know the ideal height and positioning of my saddle but it's useless knowledge without a tape measure. This is the smallest useable tape measure I've found to date, unfortunately the company only gives them out as promotional items or includes them in larger sets. You can find similar ones from other brands online.
Yep, it's another product from the luxury cycling accessory brand Silca. I recently did a shootout of 45 bicycle mini pumps and this one stood apart for its brilliant construction, ease of use and clever Bluetooth pressure gauge that syncs with a smartphone app. This gauge has proven more accurate than bulkier integrated versions which means I can dial my tyres in to the nearest PSI all while having a useful pump in case of a flat. The pump itself also hides a hose for attaching it to the valve, which makes pumping easier and removes the risk of damaging the valve. Yep, it's a lot of money to pay for a mini pump, but it's also a step above the rest for inflation accuracy. (Review on CyclingTips.com)
01/1/20