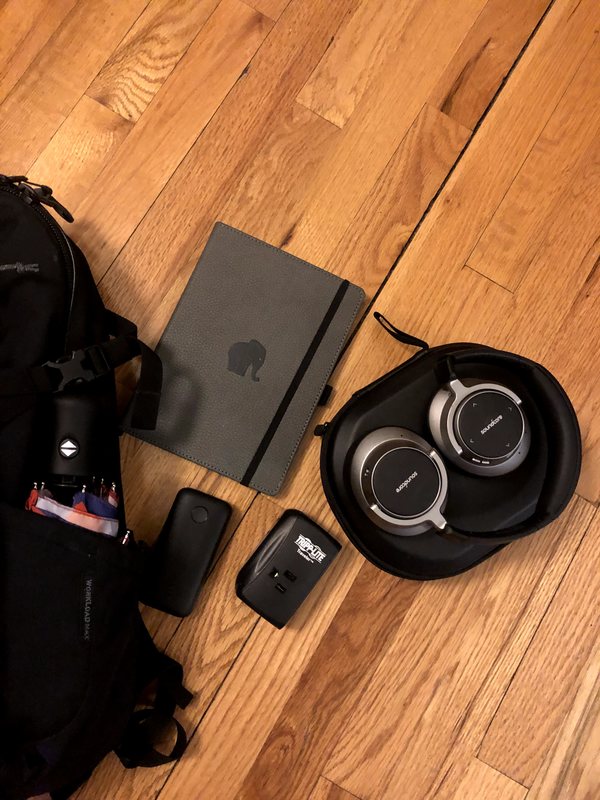 What's in my bag? issue #43
Sign up here to get What's in my bag? a week early in your inbox.
David Moldawer is a Brooklyn-based writer, editor, and book collaborator specializing in business and self-help books. He spent more than a decade in book publishing acquiring and editing bestselling books for Penguin, St. Martin's Press, McGraw-Hill, and Amazon Publishing New York. Today, he helps experts write book proposals and books, and writes a weekly newsletter for writers (aspiring and pro) and others in the book trade called The Maven Game. You can sign up here.
About the bag
I carry a black REI men's backpack that no longer seems to be available on either Amazon or the REI website — I purchased it in-store about a year ago.
What's inside the bag
Dingbats Wildlife Notebook ($20)
I have an iPad, but I would never have the audacity to whip one out for notes in a meeting with a client. If someone's going to talk me through the ideas in their book, we're going to need all devices off. That said, I know I'll need to get those scribbled notes out of my notebook and processed into my digital system. My number-one requirement for a notebook is that each and every page be perforated and easy to detach, unlike Moleskines, which feature only a few perforated pages. For this, the Dingbats Wildlife notebooks serve perfectly. They're also durable and available in different sizes/formats, which is great because I'm able to find ones that fit each of my three bags perfectly.
Anker Soundcore Wireless Noise Canceling Headphones ($80)
When the world isn't experiencing a global pandemic, I usually head to a nearby co-working space designed specifically for writers every afternoon. (The kids start coming home and it becomes very difficult to concentrate in the afternoon.) Naturally, the space places an extraordinary emphasis on quiet. I use binaural beats from Brain.fm to concentrate, so that means big, comfortable headphones that won't leak noise. And, when I'm on an airplane or the subway, I also need noise-canceling. These Anker headphones do all that at an incredible price point and with unbeatable customer service. When the first pair stopped working after being treated very roughly by me, I contacted Anker customer service and they shipped me a new pair, no questions asked.
Anker PowerCore 10000mAh Portable Charger ($46)
I've owned several external batteries and I've been continually disappointed. The highly touted and elegant TravelCard, for example, never worked properly. I'm amazed at the hype it gets. The Jackery Bolt, on the other hand, worked for 4 years before kicking the bucket, but the housing broke long before that, leaving a sharp edge that continually scraped my finger when I tried to plug my phone in. This Anker PowerCore just screams quality. Turns on automatically when you plug it in, and off when you unplug it. An incredible workhorse of a battery that can also "trickle charge" devices like AirPods. Only drawback is that you need to buy a separate USB-C-to-Lightning cable to charge your iPhone. Other than that, a great product.
Tripp Lite 2 Outlet Portable Surge Protector ($16)
Call me paranoid, but if I'm going to be plugging expensive electronic devices into strange outlets, I'd prefer to have a little surge protection. Tripp is Wirecutter's go-to surge protector brand and they offer this handy little portable model. I toss it in my bag, just in case.
04/1/20