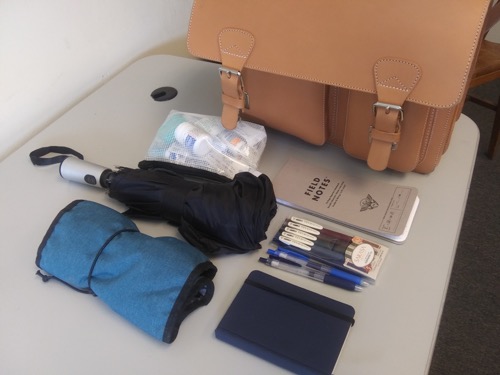 What's in my bag? issue #19
Sign up here to get What's in my bag? a week early in your inbox.
David Murray is the senior writer for The Waterways Journal, the oldest continuously published trade journal in the country (founded in 1887). He is never without pens and notebooks.
Field Notes Reporter's Notebook ($15)
I like the Field Notes reporter's notebook for interview notes, which I keep and archive. For me, taking notes in real time focuses attention and thought in a way that listening to a recording doesn't. I've found that these notebooks last about a month, using both sides of the paper. It holds a surprising amount, as much as I can fit into one of those steno notepads I get free at the office. But it's more portable, smaller and with nicer paper. (I keep a Field Book "indestructible" notebook in a pocket, for other miscellaneous notes, rather than the bag.)
Sarasa Gel Pens ($10)
The pens are a Japanese brand of gel pen called Sarasa. I color-code my interview notes for easier reference.
ProCase Roll-up Organizer ($14)
The ProCase Roll-Up holds all the electronic doo-dads, chargers, plugs, power-packs, etc. that I pick up or am given at various conferences. I use some myself and give others away at work. Keeping them in a rollup means I have only one thing to remember.
Umbrella
The umbrella was a giveaway from the Greater New Orleans Barge Fleeting Association, composed of barge operators, maritime attorney and marine insurance brokers, which meets every spring.
Modern Bethel Travel Pouch ($7/Set of 5)
The plastic mesh pouch from Modern Bethel is part of a set and holds a toothbrush and assorted toiletries, hand sanitizer, medicines, etc.
About the bag
I don't normally carry a laptop, but when I do, it fits nicely in a zippered compartment of the bag pictured above, a Ruitertassen I bought to celebrate a promotion and that I expect to outlast me.
10/16/19