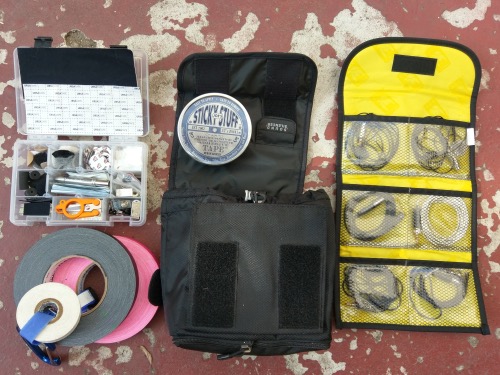 What's in my bag? issue #10
Sign up here to get What's in my bag? a week early in your inbox
Dennis Nishi is an Emmy-winning multimedia producer that currently works for public television and radio. He's also a contributing writer to the Wall Street Journal and an editorial illustrator that has been published in The New Republic, the Washington Post and various other newspapers and magazines. You can find him on Twitter and Instagram @dennisnishi.
Home Depot Husky Small Parts Organizer
Hiding a lav mic underneath clothing can be tricky because clothing rubbing on the mic or cable can create noise. And different fabrics create more noise than others as does static and chest hair. I put all of my tools into a generic Home Depot parts box. It's their in-house Husky brand with customizable compartments. The box works great for storing many different kinds of stickies used to adhere mics. I also keep fur to reduce wind noise, toupee tape and hypoallergenic medical tape if I need to attach the mic to skin. The "bullet" in the middle is to weight the cable when the lav is put down the front of shirts.
Fiskars Travel Folding Scissors ($6)
The foldable Fiskars kept in the parts box are used to cut customizable moleskin strips to create "rigs" that are used to conceal mics.
Set Shop Joe's Sticky Stuff ($20)
The metal tin contains Joe's Sticky Stuff which is field recording voodoo. This double-sided adhesive is a cross between tape and a glue that never hardens. It's extremely sticky but doesn't leave residue. And it's very malleable so can be formed into whatever shape you need. It really does arrest the movement of clothing layers around a mic head and dampens rubbing noise. You can even wrap it around a lav mic head to create a simple under clothing rig.
Ape Case Large Trifold Wallet ($9)
The lav mic case is actually an Ape Case brand camera filter wallet. The yellow interior makes it easy to find what mic I need for whatever situation and the case is well padded for protection.
About the bag
I carry all of these items in a Think Tank small camera bag ($50). This is a company founded by editorial photographers so everything is designed for field use by professional photographers. It has a lot of compartments that make it easy to store and organize everything and it has belt loops so it can be worn like a fanny pack.
08/14/19