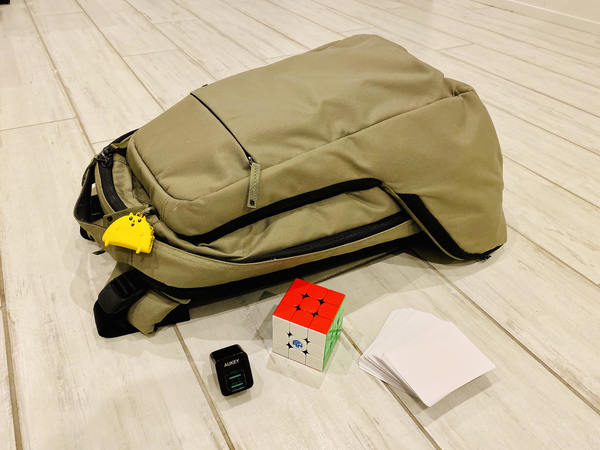 What's in my bag? issue #22
Sign up here to get What's in my bag? a week early in your inbox.
Elan Lee is a professional game designer. He is a co-creator of Exploding Kittens, the most-backed crowdfunded project in history. And before that, he was Chief Design Officer for Microsoft's Xbox.
About the bag
The bag is the Incase Icon ($200). I like it because it has what feels like an infinite number of pockets (including a secret one!) Padded space for my laptop, headphones with embedded pass-through, iPad compartment, and a comfy space for Tacocat.
Blank Game Cards  ($9)
I love these cards and travel with a pack of at least 100 everywhere I go. I use them to test quick game concepts, because you never know where you'll be when the next great idea hits. Coupled with a few Sharpies in different colors, I can prototype just about anything in minutes. Add in a few rubber bands to keep different ideas separate and I have a game design laboratory that travels with me around the world.
Gan 356 X Speed Cube ($62)
This is the world's greatest fidget toy. You can learn to solve a cube in just a few days online, and if you have long flights or stressful meetings in your life, this cube will make them disappear. This is one of the most expensive cubes on the market, but well worth it. Magnetic corners, and an internal rotation mechanism that's nearly frictionless, makes this feel like a magical object when you hold it. There are versions with and without stickers. I like the stickerless version because there's no fear of damaging the faces as I take it in and out of my bag dozens of times a day.
AUKEY 2 Port USB Charger ($10)
I could talk for a long time about all the retractable cables, compact Apple Watch chargers, and micro-usb-to-lighting adapters I carry, but none of them would matter if it weren't for this glorious USB charging hub. It does exactly what it says it does, and does it perfectly. (versions with more ports also available, but they take up more space.)
Tacocat Backpack Hanger ($7)
It's true that this is a thing I make, but it's a very important thing. I hang this cute little guy on the outside of my bag so that everywhere I go, people have an easy conversation starter with me. I'm much too shy to talk to strangers, so this serves as an excellent shortcut to social interaction. "Did you know that Tacocat spelled backwards is Tacocat? Amazing right? Let's be friends!"
11/6/19