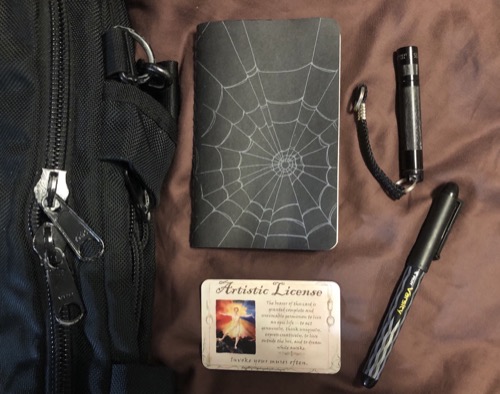 What's in my bag? issue #6
Sign up here to get What's in my bag? a week early in your inbox.
Gareth Branwyn writes on DIY media, tech, and culture. He's been an editor at Wired, Boing Boing, Mondo 2000, and Make:. He is the author of ten books, including his most recent Amazon best-seller, Tips and Tales from the Workshop.
Moleskine Cahier Journal ($9)
I have carried Moleskine Cahier Pocket Notebooks (3.5″ x 5.5″ Plain/Blank) in my pockets and travel bags for decades. I have many dozens of volumes of them, filled with book and article ideas, dreams (both the waking and sleepy-time varieties), writing fragments, research, etc. If I ever woke up to a fire in my house, these are what I would grab on my way out of the door.
Pilot Varsity Disposable Fountain Pen ($12/6pk)
A Varsity Disposable Fountain Pen (black) has been next to my Cahier Notebooks ever since I started carrying them. I love the flow and feel of the nib. I buy a dozen every year. Years ago, I realized I was losing my ability to write (after years of all-day typing). I now love switching between keyboard and notebook. Sometimes, if I get stuck writing something, I'll change to handwriting to help stir things up.
Maglite Solitaire Flashlight ($14)
I have had the same Maglite Solitaire flashlight in my laptop bag for over 20 years. It runs on a single, long-lasting AAA battery, has a decently-bright, adjustable beam (for its size), and fits on a keychain. Perfect for finding your car keys or the keyhole of an unlit door. For more powerful lighting, I usually have a Maglite Mini not far from access.
Moo Business Cards
Several years ago, my son and I designed and printed Artistic License cards after I saw several friends issuing their own (one was an art teacher who issued them at the end of the year). I get these printed, laminated with rounded-edges, through Moo Cards. I've issued hundreds of them and have even made some money selling them online and at art shows. I mean, hasn't everyone been in a situation where they needed a little artistic license? What's in YOUR wallet?
About the bag
I have carried the same Brenthaven laptop bag since 1997. I reviewed it for Wired back then and raved so much about it, they used my review on their hang tags for years. I guess my glowing assessment was correct because, all of these years later, I'm still happily carrying the same bag and it shows few signs of wear. If it ain't broke …
More about Gareth
Gareth recently launched a new weekly newsletter, Gareth's Tips, Tools, and Shop Tales, published every Tuesday. You can subscribe here.
07/17/19