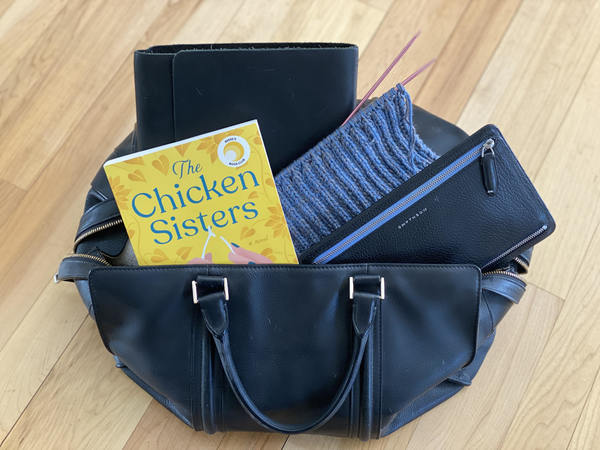 What's in my bag? issue #90
Sign up here to get What's in my bag? a week early in your inbox.
Jessica Lahey is a writer and speaker who lives in the woods of Vermont. She writes about education, substance use disorder, and child welfare for various outlets including The Washington Post and the New York Times, and reviews books for Air Mail. She is the co-host of the #AmWriting podcast with bestselling authors Sarina Bowen and K.J. Dell'Antonia.
When the world is not in the midst of a pandemic, she spends about a third of her time on the road, speaking to parents, teachers, and kids about The Gift of Failure and The Addiction Inoculation. She always has a book in her bag, as she prefers paper to screens, but also adores audiobooks because she can read and knit at the same time.
About the bag
My bag is a black leather Hugo Boss, one I purchased off of Ebay years ago. It's style number 50274573 and I'd buy a backup if I could. When this bag gives out, I'm going to be devastated, because it's the perfect size. It fits my laptop, headphones, knitting, a book, and essential travel items, and despite hard wear, the handles have held up beautifully.
What's inside the bag

Fillion (XL trifold) made by Lesha Shaver of Little Mountain Bindery with a Leuchtturm1917 B5 monthly calendar with journal tucked inside.
This is where the contents of my brain reside until I put them in a book, an article, or an episode of the #AmWriting podcast. I first spotted a Fillion at the Crystal Bridges Museum of American Art store and immediately ordered my own, with my initials embossed on the cover. My two best friends (also my podcast co-hosts) have identical Fillions and journals, and we keep track of our writing goals using stickers. The term "sticker" is our text thread shorthand for "I reached my writing goals today!" so there's always a sheet or two of stickers in my Fillion as well.
Smythson of Bond Street currency case. 
I fell in love with this wallet when I read a New York Magazine piece, "What David Sedaris Can't Travel Without." I stalked the wallet, even went to Smythson's New York City store and fondled it, but could not justify the price. I kept watch for it on Ebay and finally found a used one for much less and it's become one of my very favorite things. It has four pockets, and I use them for money, business receipts, the Tile I use to keep track of it, and some business cards. I love this wallet so much and it keeps me organized when I'm traveling.
Whatever I'm knitting.
This happens to be a hat for my sister, but I'm a fan of smaller projects. Hats, socks, scarves, that kind of thing. I got my needles at a yard sale, but someday I want to get the Clover Takumi combo interchangeable circular knitting needles set. Someday.
A book.
I get a lot of advance copies for reviews and podcast interviews, but I try to purchase my books at my local independent booksellers, The Vermont Bookshop in Middlebury, the Crow Bookshop in Burlington, or Phoenix Books in Burlington. This book is The Chicken Sisters by K.J. Dell'Antonia, my friend, former New York Times editor, and #AmWriting podcast co-host. The Chicken Sisters is K.J.'s first novel and a recent Reese Witherspoon's book club pick!
02/24/21
(What's on your Desk? We are changing things up a bit and want to hear about that unusual and unusually useful items that you keep on your desk. Start by sending an email to claudia@cool-tools.org with a photo of 4 interesting things on your desk (you can use your phone). If you get a reply from us, fill out the form we send you, and we'll pay you $50 if we run your submission in our What's in my bag? newsletter and blog. — editors)