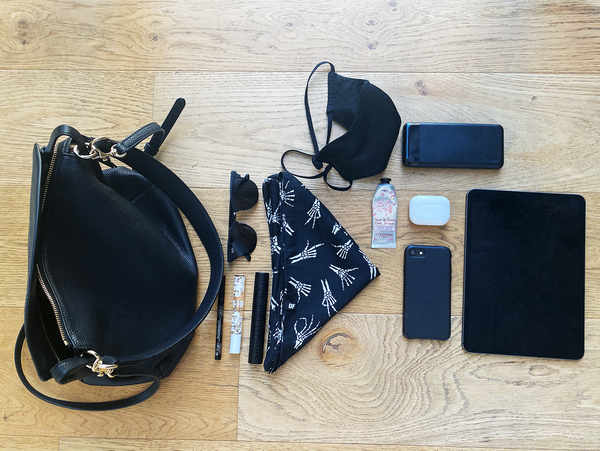 What's in my bag? issue #71
Sign up here to get What's in my bag? a week early in your inbox.
Joan Westenberg is an award winning Australian PR director, contemporary writer, and creative. She is the founder of PR and communications firm Studio Self, and the Director of Content at Linktree. Her approach to messaging, communication and semiotics has built her reputation as a writer, and she has been named as one of the leading startup voices in Australia by SmartCompany.
About the bag
I use an Oroton bag (I can't quite recall what it's called) with a crossbody strap. It's a high quality bag and it looks sleek and stylish while being minimalist and elevated. Plenty of room, and it's easy to drag around with me!
What's inside the bag
iPhone SE: I downgraded my iPhone recently from an 11 Max Pro to an iPhone SE. It's so much smaller and simpler and more manageable, and being able to operate it with one hand while I'm out and about makes my life easier. It also means I spend far less time staring blankly into a screen…and I prefer a fingerprint reader to a damn face recognition algorithm any day!
Mask: A mask is the absolute must-have accessory this season and probably permanently from now on. Mine is handmade and handcrafted by my friend, costume designer and maker Duckie Designs. It's super breathable, it's gorgeous and the fabrics are lovingly chosen. You'll be able to buy your own in a week or so, make sure you keep checking back!
KVD Go Big or Go Home Mascara: I am not leaving the house without this. Ever. It's the best I've found to work with my look, it's long lasting, and it's 100% vegan too.
iPad Pro: My iPad Pro is my main computer. Sure, I use an iMac for a lot of the hands-on stuff, but most of my writing and comms happen on this. It's an 11-inch 2019 iPad, and I've just lost the pencil for it, but I absolutely adore it. Plus, you can entertain a kid with it or binge Lucifer on the go in a pinch.
10/14/20