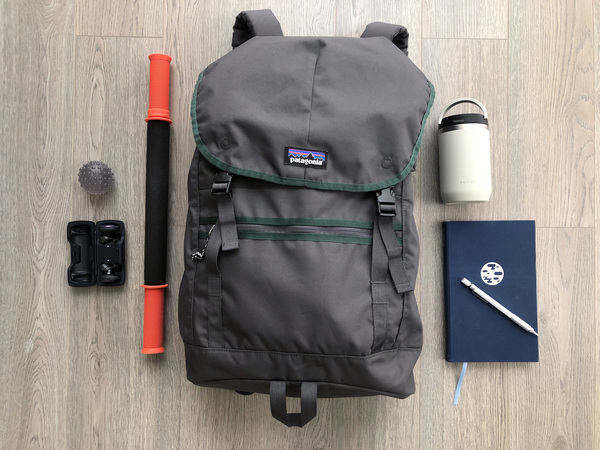 What's in my bag? issue #54
Sign up here to get What's in my bag? a week early in your inbox.
Justin Elchakieh is a Toronto-based freelance television producer and marathon runner. He's an avid gear junkie and is always on the hunt for the next gadget to help him optimize his routine.
About the bag
Arbor Classic Pack 25L
I picked this backpack up from Patagonia and it's been my favourite to date. It's lightweight with just enough pockets so I can always see what I have inside and have a small footprint on my morning commute. The main compartment closes with a drawcord and seals with a large flap pocket which has allowed me to fit odd shaped things like a squash racquet or a large foam roller without any trouble. Thanks to the padded back and curved shoulder straps it's very comfortable even when I've loaded it up.
What's inside the bag
Kurzgesagt Gratitude Journal ($20)
When I find myself looking at things with a glass-half-empty perspective, I grab my gratitude journal and jot three things I'm grateful for. Along with cool illustrations, the simple layout makes it easy to write things down, feel the love, and move on with my day. I discovered it through Kurzgestagt's YouTube channel, which explains cool topics like "String-theory" with short animations.
Tiger Tail Massage Stick 18 ($30)
It doesn't take long for muscle soreness to kick in after a morning work out, especially when I'm at my desk. I remember the first time pulling this out at work — it got passed around to half the office! I pull this out for instant relief on any muscle tightness. It's very effective in rolling out soreness in your quads, hamstrings and calves along with a host of other muscles.
Purist Maker 10oz ($40)
The biggest feature for me is it's built with an interior material resistant to aftertastes so I can go from coffee to water to beer without tastes lingering. I also love the size. 10oz is my perfect cup of coffee, and with 12 hours hot & a leak-proof design, this is my ideal mug. I love the top handle and it's small enough to fit into a coat pocket in a pinch.
Bose SoundSport Free Wireless Headphones ($149)
My go-to everyday bluetooth headphones with quality audio and an IPX4 water-resistant rating so I'm not afraid to use them during a long sweaty run. I've gone through many pairs of wireless headphones that usually end up with crackled audio after a couple months of use. The SoundSport Free Wireless headphones deliver some of the best sound I've ever heard with sport headphones and have held up well to heavy work outs. They go on sale frequently too!
06/17/20