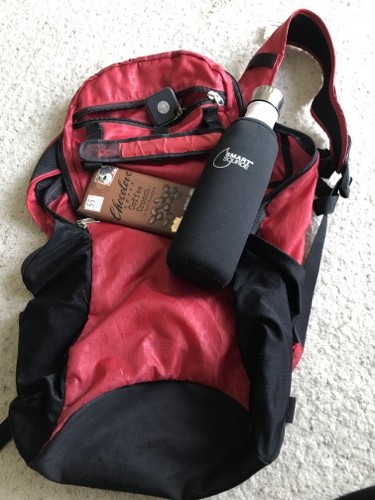 What's in my bag? issue #7
Sign up here to get What's in my bag? a week early in your inbox.
Kent Barnes is a retired stagehand with more than thirty years of live performances, movies and commercials. He makes musical instruments out of flea market found objects. This is what he carries in his walking bag.
Chocolove Chocolate Bars ($7)
I always pack a chocolate bar. A chocolate bar with coffee is even better.
Simple Modern Wave Water Bottle ($15)
These are vacuum insulated double wall stainless steel hot/cold thermoses. I added a foam cover for more insulation and dent prevention.
Tile Pro with Replaceable Battery ($24)
I've been using Tile since its 2015 Kickstarter. I used to hack in a new battery, but now the Pro model has a replaceable one.
Reflective Fiber Optic Blinking Red LED Roadside Safety Strip ($7)
A flashing LED light is good when walking at night. I think the one I use came from a dog collar I bought at the flea market for a dollar.
About the bag
It's a ChicoBag Compact Recycled Backpack ($30). I have 2 of them. Extremely light, with two stretchy side pockets for my water or thermos. It's divided into 2 sections inside, with a 8'' x 6'' zipper pocket outside that the whole backpack can fold into, making a pretty small footprin
07/24/19