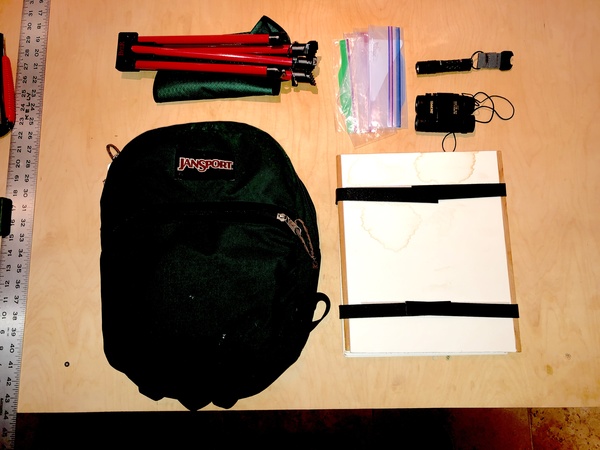 What's in my bag? issue #59
Kevin Kelly is Senior Maverick at Wired magazine. He co-founded Wired in 1993, and served as its Executive Editor for its first 7 years. His most recent book is The Inevitable, which is a New York Times and Wall Street Journal bestseller. His other books include the best-selling New Rules for the New Economy, the classic Out of Control, and his summary theory of technology in What Technology Wants. From 1984-1990 Kelly was publisher and editor of the Whole Earth Catalogs. He co-founded the Hackers' Conference, and was involved with the launch of the WELL, a pioneering online service started in 1985. He also founded the popular Cool Tools website in 2003.
About the bag
This is my day hiking bag. An ancient 20-year old JanSport bag with essentially 3 big pockets. I use it for day hikes. In addition to the items shown here, I'll also carry some snacks and water. This is the closest current model JanSport bag.
What's inside the bag
Homemade, super light-weight plant press for preserving plants and flowers from my hikes. Made from scrap pieces of foam core boards. I glued two layers for each side with strips of wood to corner the velcro straps. Inside are sheets of "couch" blotter paper to dry the plants.
A single AA battery LED light hangs inside the JanSport bag. Very light weight, but extremely bright and long lasting. To be used when darkness comes or to inspect underbrush. The one shown is no longer made. This one is near equivalent.
Tiny binoculars. I only use these occasionally, so I don't want to carry the full weight of real birding binocs. At 8 x 21 magnification they are low powered, and sometimes called opera glasses. These inexpensive ones are helpful for short glimpses. Since they are very compact and very cheap, I don't mind packing them. The ones I have are no longer made so this is an equivalent.
The lightest, smallest portable camp chair I could find. This fits in my daypack and unpacks into a tripod stool which lets me sit almost anywhere. While it is very compact, the TriLite Stool is not super comfortable, and not made for relaxing. It's also tipsy, and easy to tip over in. But I use it only for short rests and for picnicking.
07/22/20
(What's in YOUR bag? We want to hear about unusual and unusually useful items that you carry in your bag. We are especially interested in the specialized bags of doctors, athletes, repair techs, artists, gardeners, hikers, etc. Start by sending an email to claudia@cool-tools.org with a photo of the things in your bag (you can use your phone). If you get a reply from us, fill out the form. We'll pay you $50 if we run your submission in our What's in my bag? newsletter and blog. — editors)