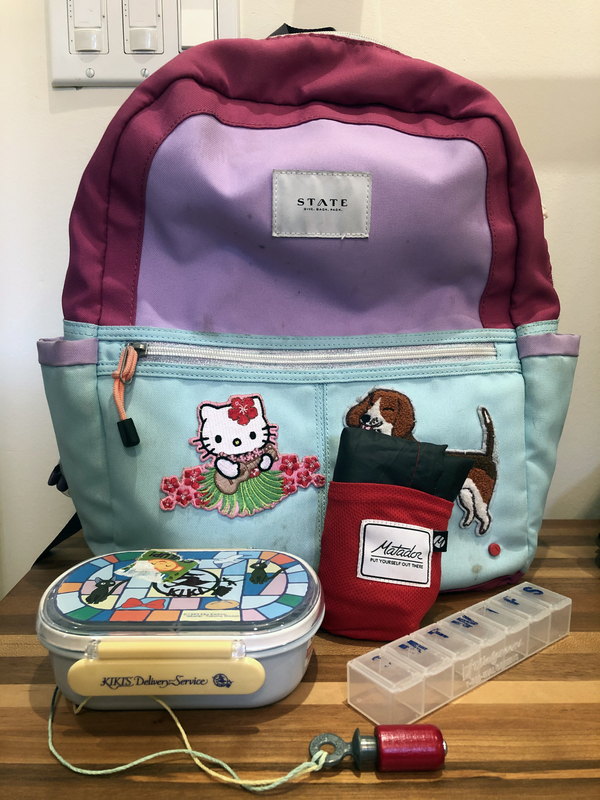 What's in my bag? issue #57
Sign up here to get What's in my bag? a week early in your inbox.
Camille Hartsell has honed her question-answering, book-making, and odd-jobbing skills over many years of working as research librarian to Kevin Kelly. Since the arrival of her kids (now 3.5 and 6.5), and especially COVID-19, she is mostly a stay-at-home-parent, which makes her substitute teacher, camp counselor, art facilitator, life-guard, and mediator of many feelings and disputes.
About the bag
Kane Kids by State
Both kids are now big enough to carry their own backpacks, a major milestone. My daughter uses this great backpack from State, which has a strong charitable giving program. So far, it has survived kindergarten, my crappy patch-sewing, several washes, and now many trips to the park and beach. The side pockets fit full-sized water bottles, and the interior pockets are nice to have if underused by my 6.5yo, who has more of a cram-everything-into-the-biggest section approach to organization.
What's inside the bag
Snack Box
My kids have happily inherited my obsession with cute bento boxes, and this one features styling from one of our favorite movies, Kiki's Delivery Service. The latches are easy to operate and it has two removable compartments inside. It's made of lightweight plastic and although it's not leakproof, it does just fine with apple, crackers, nuts, etc. Does great in the dishwasher, although I don't think you're supposed to.
Audubon Bird Call ($14)
It's small, easy to wear like a necklace, and delightful to use. You press and turn the metal bit, which causes friction and then emits high-pitched chirps. Changing the pressure and speed affects the sound. My 3.5yo can operate it as well as my 6.5yo. Sometimes, we even get birds chirping in response!
Empty pill organizers ($3)
The kids use these to collect and sort all manner of treasures and debris. I like these 7-day, stick-style cases because they're easy to open but also stay latched when tossed into backpacks. Also good for mixing paint.
Matador Pocket Blanket ($30)
This ultralight groundcloth is not cushy or warm, but it can be useful to establish a home base when we're at the park. This one packs down to nothing, and also functions well as a cape or makeshift carrying sack.
07/8/20
( What's in YOUR bag? We want to hear about unusual and unusually useful items that you carry in your bag. We are especially interested in the specialized bags of doctors, athletes, repair techs, artists, gardeners, hikers, etc. Start by sending an email to claudia@cool-tools.org with a photo of the things in your bag (you can use your phone). If you get a reply from us, fill out the form. We'll pay you $50 if we run your submission in our What's in my bag? newsletter and blog. — editors)