What's in my … ? issue #115
Sign up here to get What's in my bag? a week early in your inbox.
Kristina Budelis is a filmmaker, entrepreneur, and product manager based in LA. She is currently working as a Senior Product Manager at The New York Times, where she is focused on a new, pre-launch product for kids. She's also a documentary filmmaker (in the past year, she's had films premiere at Tribeca Film Festival, on NewYorker.com, and NBC Digital) and the cofounder of KitSplit. You can find Kristina on Twitter @kbudelis.
I have a bunch of different bags, ranging from highly practical (shout out to my highly ergonomic Tikbuk2 backpack) to purely aesthetic (a number of fun colorful purses, mostly vintage). But right now, my go-to when I don't need to carry much is this small fanny pack (which I wear as a purse, not as a fanny pack) from Forever 21, which was around $20 and has really held up despite heavy use over 3+ years!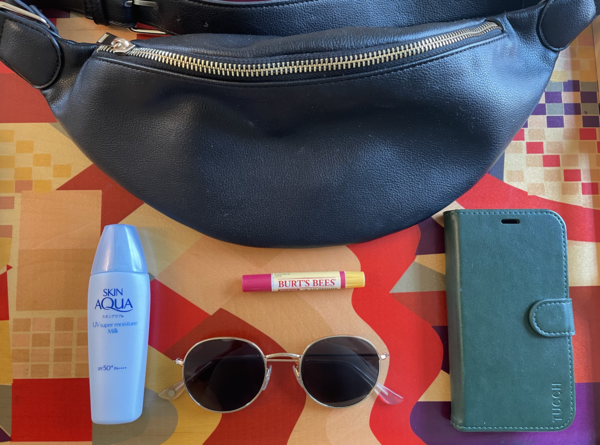 Skin Aqua Moisture Milk Sunblock ($15): I live in LA and have very pale skin, so good sunblock is a must. I've tried a ton of different options. My friend/ skincare guru Ben Feinberg recommended this one, and I'm totally obsessed with it. It is lighter in texture than any other sunblock I've tried; super powerful; and moisturizing, too. I also like the form factor—this little bottle fits in a pocket or a tiny bag. While it's not cheap, I think it's worth it and it lasts a while!
Green leather phone case and wallet ($20): This case is just $20, and comes in a number of different colors. It looks cute and holds my phone, a few credit cards, and some cash. I like having my wallet & phone combined so I just have to grab one thing when I walk out the door (especially because I have a smartlock, so I don't carry keys anymore). I also like that this one covers my phone screen when it's closed, so I can have my phone out but be a little less distracted by it since the screen is out of sight when I'm not using it.
Sunglasses ($16): As an LA resident I need to carry sunglasses everywhere. I have a few pairs, bu these are my current favorites. They look similar to the much more expensive Ray Ban sunglasses that are popular right now. But I'm prone to losing sunglasses, so I generally stick to affordable options. These are $17, flattering, stylish, and polarized. They also came with a cloth case (not pictured).
Burt's Bees lip shimmer ($5): I love this little guy! It's really moisturizing and feels like chapstick (in a good way), but looks flattering / more like lipgloss. It has a subtle taste/smell of peppermint, is just $5, and super easy to find (available at most drugstores, many grocery stores, etc).
08/18/21