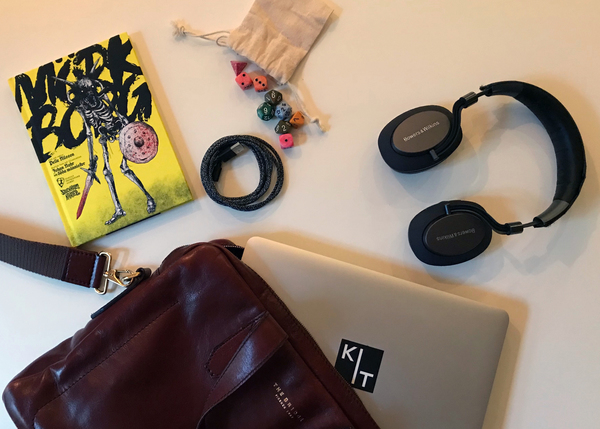 What's in my bag? issue #31
Sign up here to get What's in my bag? a week early in your inbox.
Magnus Dahl is the Creative Director at Swedish social media agency KIT. He also co-hosts Läs Hårt, a podcast about genre books people never talk about. You can find him on Twitter as @gorillotaur.
About the bag
This is the best bag I've ever owned. Its main task is to carry my old MacBook Pro back and forth to work, but it fits more stuff than any other computer case I have tried. It is a beautiful piece of craftsmanship. The only thing I miss is a pen holder or two.
What's inside the bag
I bought a Chessex "Pound o Dice" last year, but it would be absurd to walk around with so much dice. So I put some of my favourites in a small cloth pouch to carry with me. In case of random gaming.
Amazing sound, so-so noice-cancelling. They are actually a bit overkill soundwise, as I mostly listen to podcasts. And slightly too big and fragile to easily fit in my bag. But I gave them to myself as a "going on paternity leave" gift, so they stay.
"Ghost nets" are abandoned fishing nets floating around in the oceans, trapping and killing horrific amounts of aquatic life. This charging cable is made from recycled ghost nets. I love the way it looks and feels.
I always have something to read in my bag. My Kindle, an ebook on my phone, or an old fashioned paper book. Currently, I am reading Mörk Borg, a "blackened artpunk" role-playing game from Swedish RPG powerhouse Free League. It is more of a playable art book than a game.
01/8/20