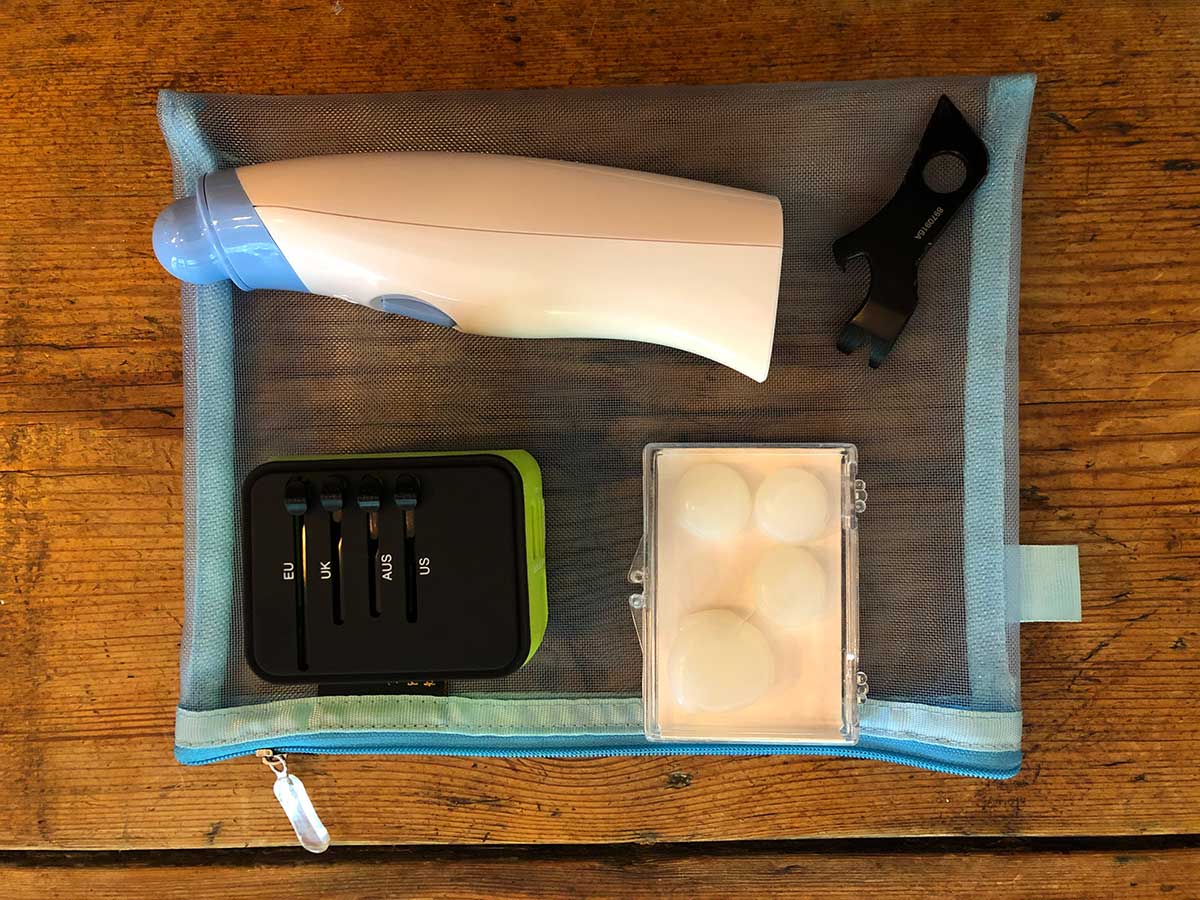 What's in my bag? issue #3
Sign up here to get What's in my bag? a week early in your inbox.
Mark Frauenfelder is the co-founder of BoingBoing, and the founding editor of Make magazine. He is a research director at Institute of the Future, and the author (and illustrator) of seven books.
Eustachi Eustachian Tube Unclogger ($60)
Getting on a plane during (or weeks after having) a head cold used to be excruciatingly painful. My ears would get plugged and I couldn't hear well for days, even with decongestants. This gadget allows me to fly without fear of getting clogged ears. It blows air up your nose, equalizing the pressure in your eustachian tube. I love this thing.
Mack's Pillow Soft Silicone Earplugs ($9)
Regular foam earplugs hurt my ears and don't work very well. These silicone earplugs are like silly putty and completely seal up my ear canals, almost completely cutting out loud noises. I was happy to have them last week when I was in a Charlotte, NC hotel room and a Journey cover band played loudly outside until 2am.
Universal Travel Adapter with USB and USB-C charging ($20)
About the size of a lemon, this travel power adapter works in every country I've traveled to, letting me charge my laptop, phone, Kindle, Apple Watch, and other devices. Best of all, it has a built-in USB-C charging port for my Nintendo Switch.
Gerber Shard Keychain Tool ($5)
This airplane safe multitool has a small and medium flat driver, Philips head driver, wire stripper, pry bar, and bottle opener. I've used them all at one time or another. I don't use it a lot, but I'm grateful to have it when I need it.
Note:
I keep these items, and everything else besides my clothes and laptop, in Japanese zipper bags.
06/26/19