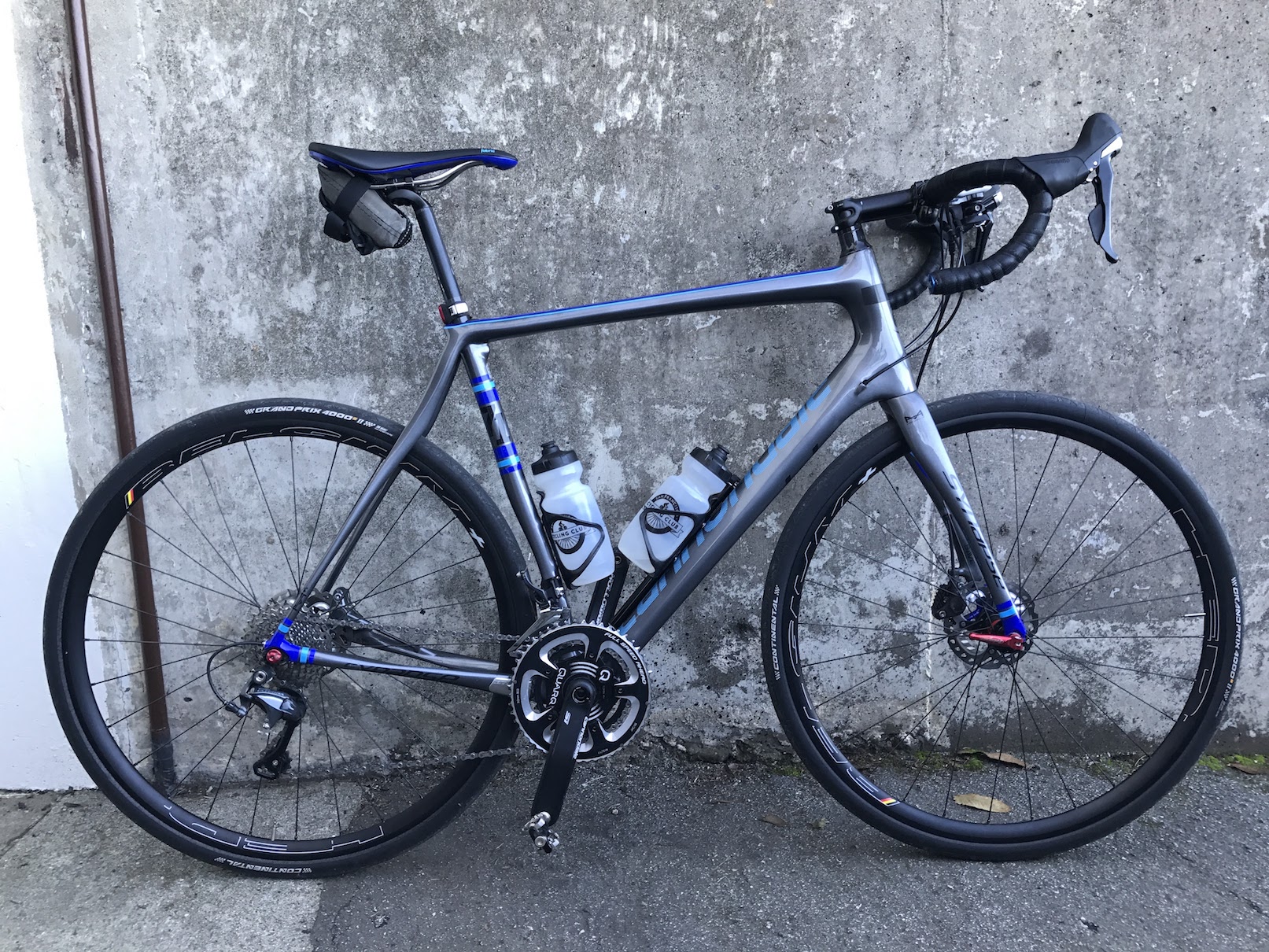 An avid cyclist shares his road gear
I log about 10,000 miles per year from my home in San Francisco and around the world. I use this gear for short city loops or for 100 mile adventures. It's reasonably light and easy to carry, and iit gives me what I need to handle mishaps and get home safely.
The bag: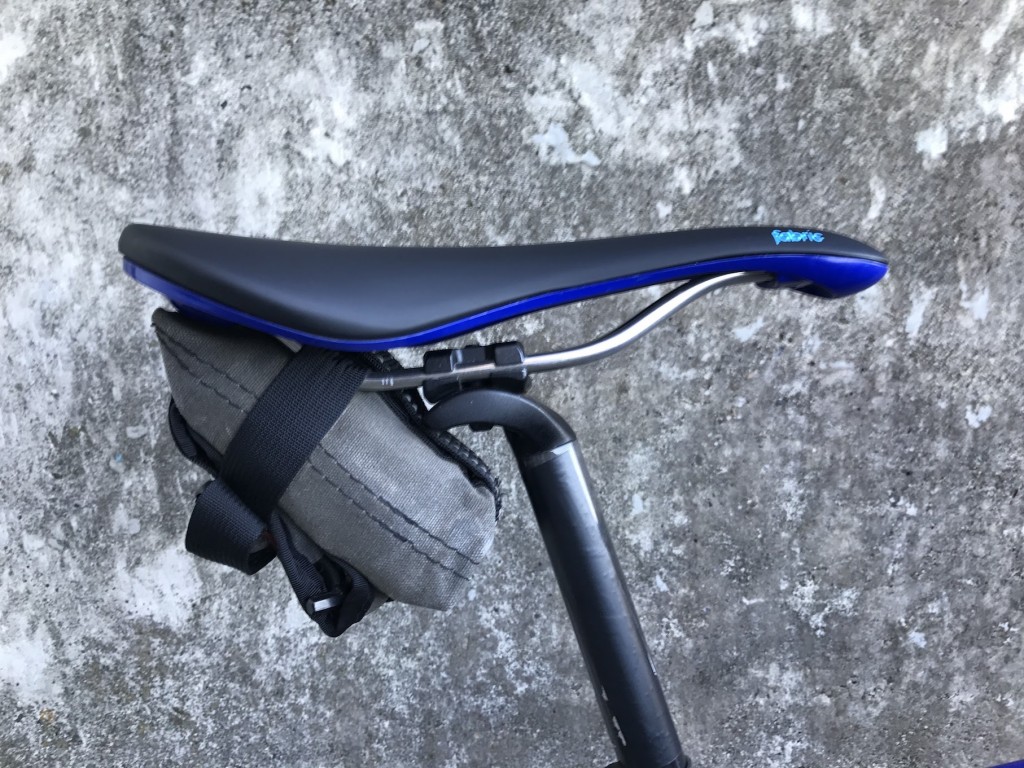 Silca Seat Roll (discontinued, 100 grams)
Some riders carry all their gear in their jersey pockets, but I like to reserve those for my jacket, phone, and food, so I use a small bag under the saddle. My current favorite is a Silca Seat Roll, waxed canvas that wraps like a burrito. It's discontinued but similar products are available. I like the tool roll design because I can unroll it on the ground and easily get to all my gear when I need to make a repair.
What's in the bag: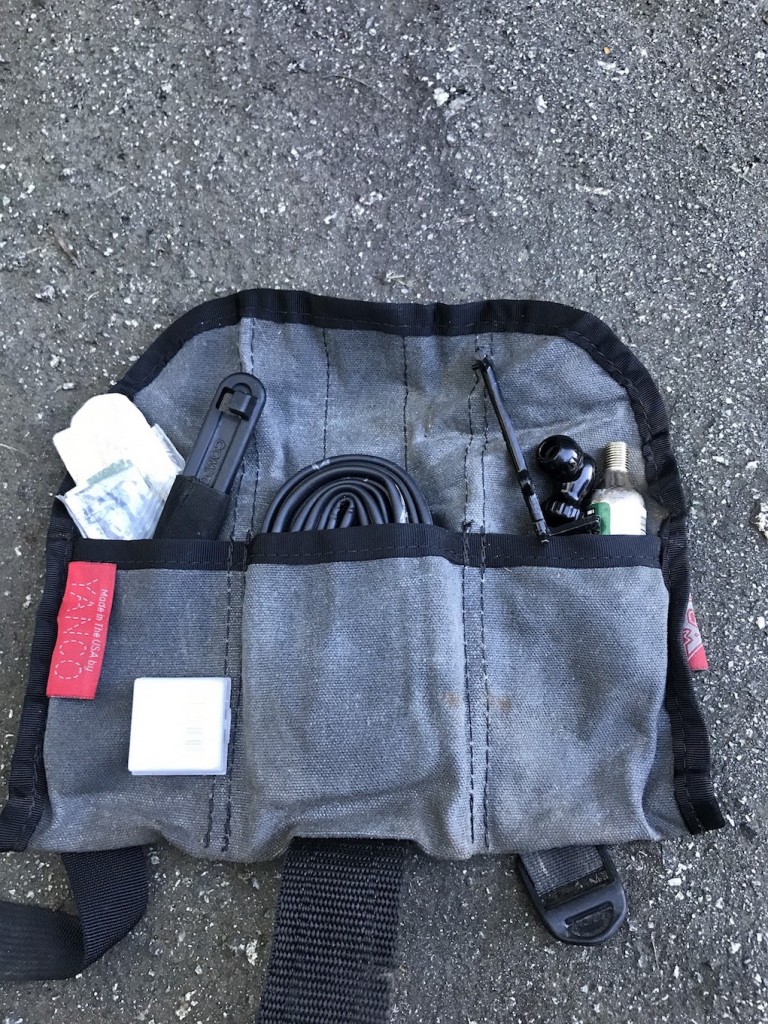 Spare Tube (varies, 110 grams)
Lighter tubes are available.
Park Tool Self-Adhesive Patch Kit ($6, 4 grams)
Emergency use only if I flat more than once.
Tire Levers ($5, 24 grams)
These are Lezyne Matrix Power Levers which work well for me.
Tire Casing Boot (varies)
If a flat tire damages the casing of the tire it's helpful to have a tough, flexible material like Tyvek to patch or "boot" the tire.
Ritchey CPR-9 Multi Tool (discontinued, 24 grams)
This handy little multitool includes 2-6mm allen wrenches, a screwdriver and a spoke wrench. It's got no moving parts and it's very light weight. I bought a few before they were discontinued. For bigger adventures I sometimes bring a larger Ritchey multitool with a chainbreaker.
CO2 Cartridge (58 grams) and inflator (14 grams)
Although I carry a good pump, on this bike I also carry CO2 cartridges for quick inflation when I'm on group rides and people are waiting. This costs me two ounces, on some of my other bikes I just rely on the pump.
Also included:
$20 for emergencies
Personal cards with my name and email address for when I meet people
Total weight of the packed bag = 347 grams
Other: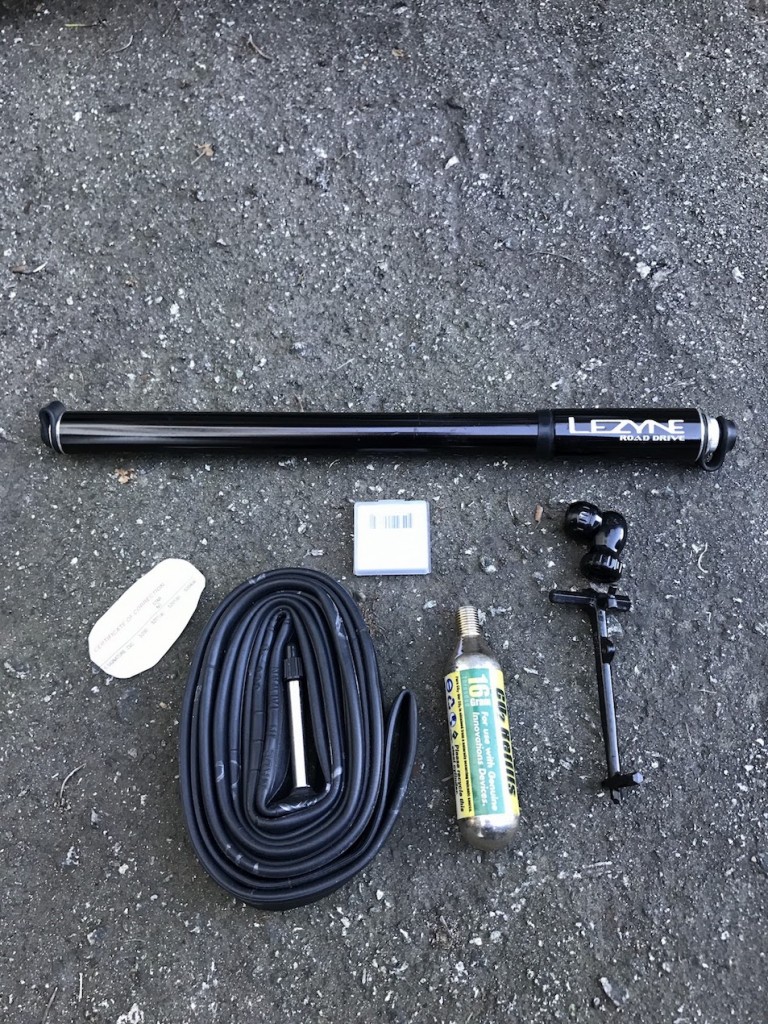 Lezyne Road Drive Hand Pump ($45)
I've tried just about everything and I recommend the Lezyne Road Drive pumps that attach with a threaded hose. The larger ones weigh about 110 grams, make it easy to inflate a tire to 100 psi, and mount securely on the bike's water bottle screws. Doubling up with the cartridge and pump on this bike is overkill, I know.
Phone, with DistilUnion Wally Stick-on pocket ($30) for credit card, $20, and more business cards (in a LocSak or ziploc bag on wet days).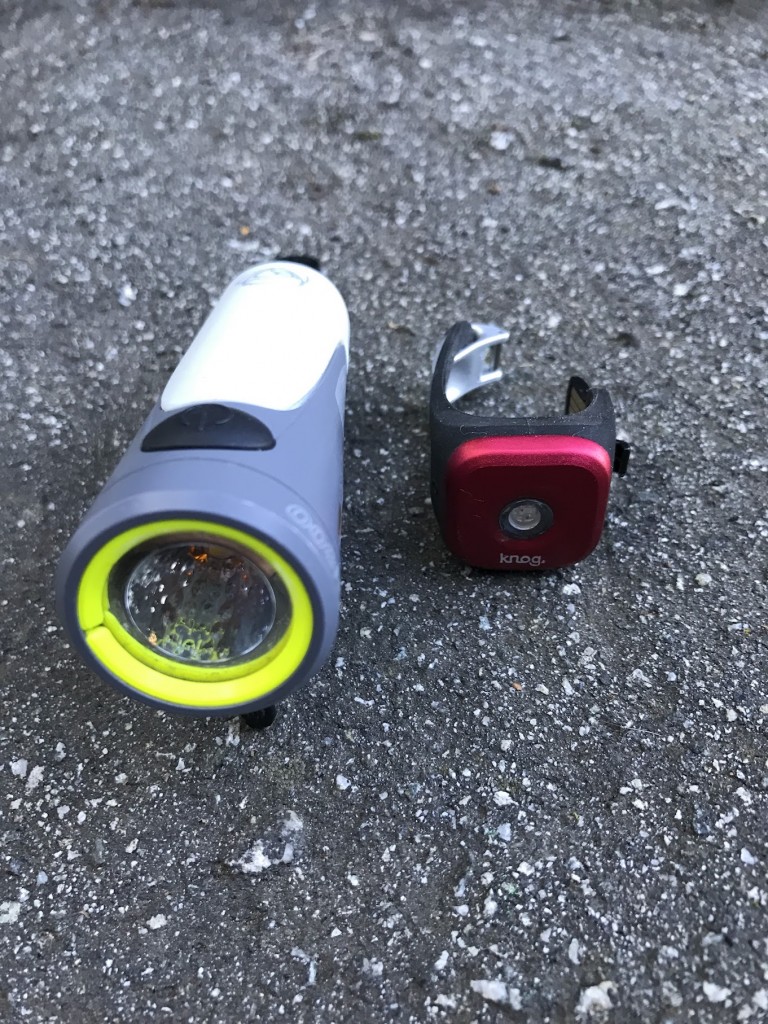 Knog Blinder Mini Dot ($30, 16 grams)
This rear light is so light and small that I leave it on the bike all the time. For a front light I use a Light and Motion Urban 800 ($100, 120 grams), which I mount on the handlebars when needed.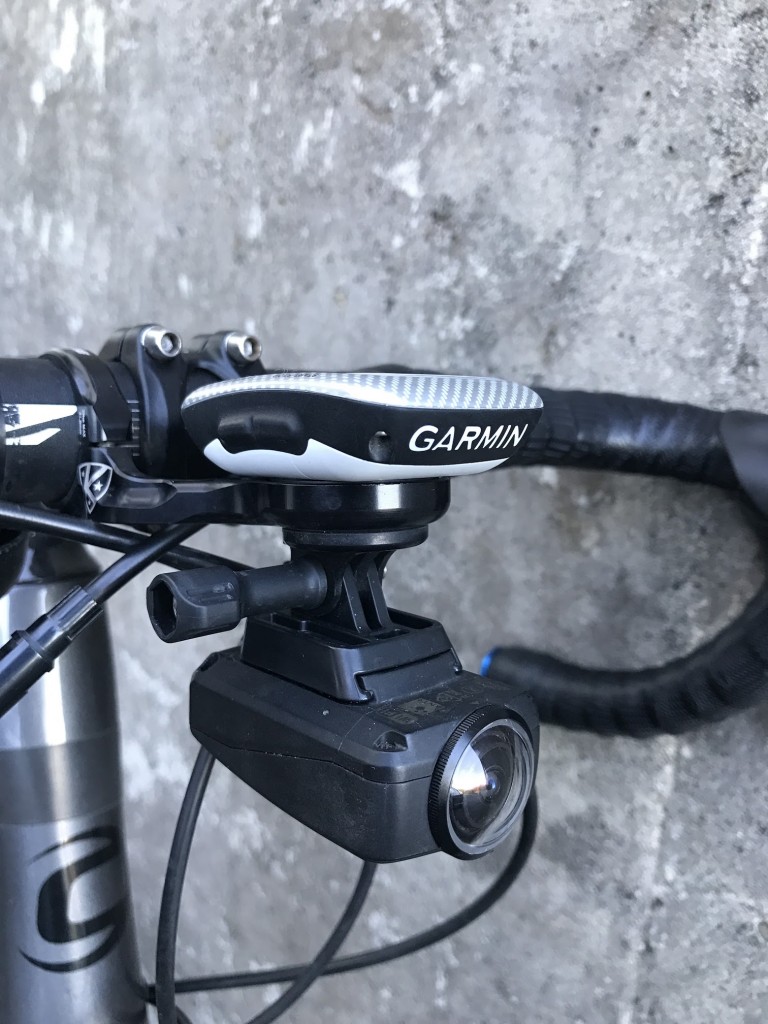 Shimano CM-1000 Sport Camera
I've been using this because of its slim and unobtrusive profile, but the image quality isn't quite a good as a GoPro and there's a lot less support.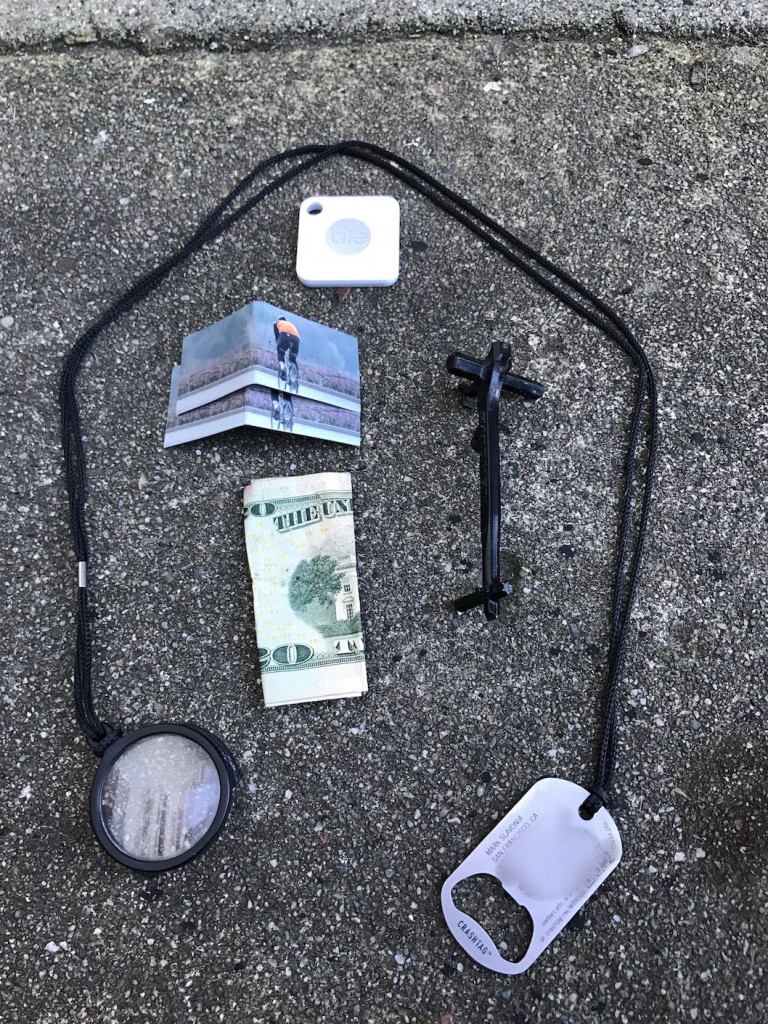 ID/monocle
On a lanyard around my neck I carry a dog-tag style personal ID and a reading monocle by Nearsights ($60) — very handy for middle-aged eyes.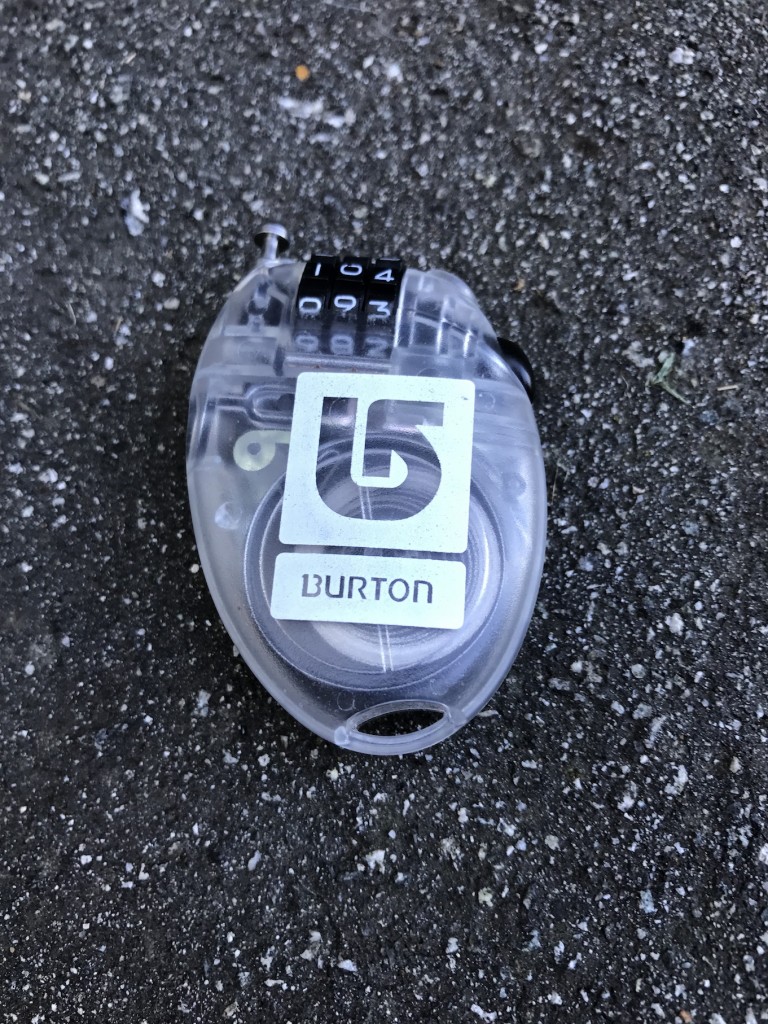 Cable Lock
If I might be making a quick coffee stop I'll throw a small skiing cable lock in my back pocket.
Garmin 500 GPS ($250, 57 grams)
Still my favorite.
Of course I vary this kit depending on the ride and the conditions but as a base kit, this works pretty well for me. Many happy miles.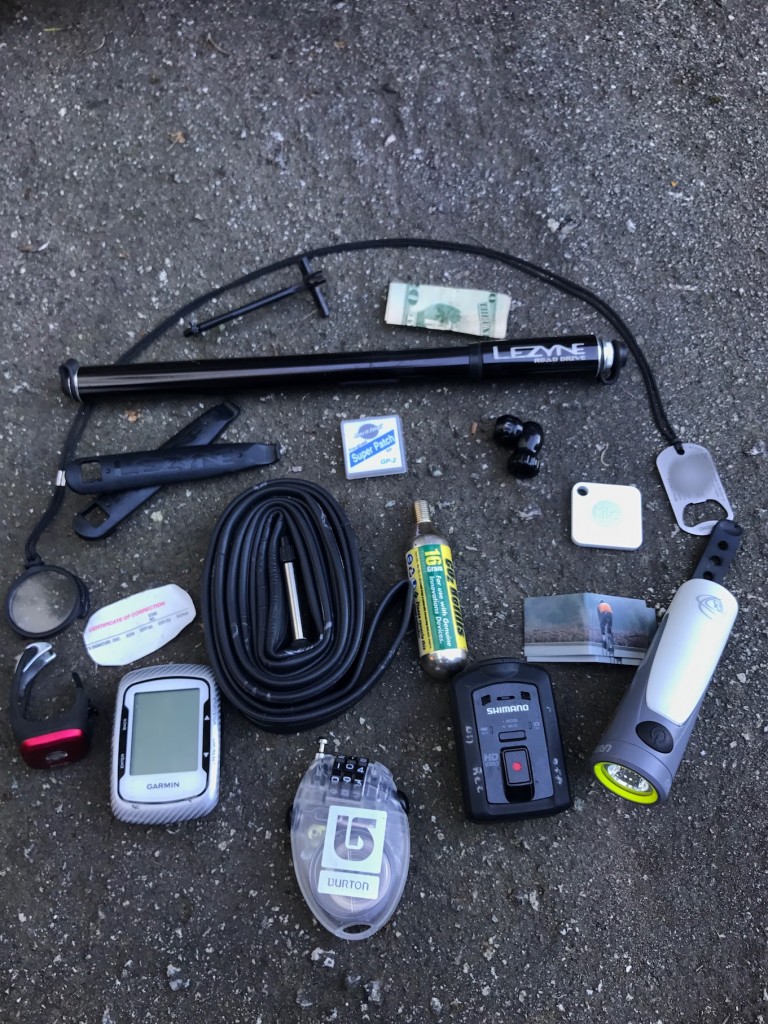 02/23/17
(Cool Tools Readers! We will pay you $50 if we run your "What's in My Bag" story. Send photos of the things in your bag (and of the bag itself, if you love it), along with a description of the items and why they are useful. Make sure the photos are large (1200 pixels wide, at least) and clear. Use a free file sharing service to upload the photos, and email the text to editor@cool-tools.org. — editors)