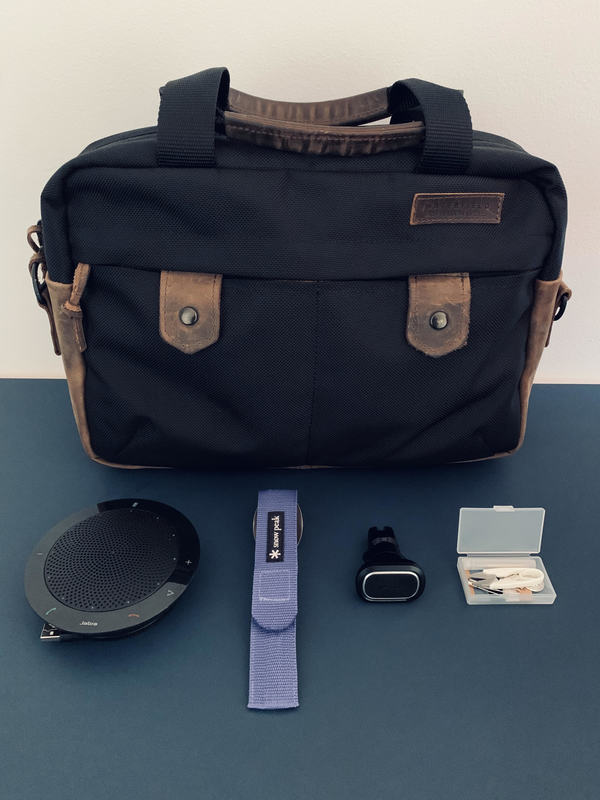 What's in my bag? issue #73
Sign up here to get What's in my bag? a week early in your inbox.
Nabhan Islam is a Medical Science Liaison (MSL). A MSL is non-promotional role that serves as a bridge between the pharmaceutical industry and clinical practice [of Medicine]. The majority of his time is spent meeting with specialists and attending medical conferences within his territory to keep both parties apprised of the latest developments within his therapeutic area. After previously working in Respiratory Medicine, he's hoping to switch to Vaccines & Infectious Disease to help advance a COVID-19 vaccine candidate.
About the bag
Waterfield Bolt Briefcase ($269-$299): After owning a half-dozen bags over the last two decades, I knew exactly what I wanted in my perfect laptop bag. This briefcase is available in 3 sizes so you can choose the correct dimensions for your laptop without any extraneous weight or bulk. There are two separate padded compartments for my laptop and tablet. Lastly, the carry-on passthrough sleeve doesn't impinge on the rear drop pocket — a very handy (and very rare) arrangement.
What's inside the bag
Jabra Speakerphone ($130): A must-have for frequent virtual meetings. Vastly improves the audio quality of conversations and lets you speak and listen naturally without fumbling with headphones. Doubles as a speaker for presentations with sound, and playing music back at the hotel (versatility is key when traveling). There are wireless models available, but USB is foolproof with zero chance of a dropped signal or dead battery.
Snow Peak Titanium Cutlery Set ($26): Life on the road means a lot of take-out and delivery, and I've found myself with a meal and no utensils on more than one occasion. I'm also trying to reduce my use of single-use plastic. It's hard to articulate but the tines and bowl are shaped just right, and perfectly nest together in a neat storage bag. Titanium is also extremely lightweight and hypoallergenic (no nickle = no metallic aftertaste).
iOttie Magnetic Air Vent Mount ($17): This is the easiest, most compact, and reliable way of mounting my smartphone to a litany of different rental cars. The mount easily attaches to a vent fin with press-fit prongs and a locking ring, which then holds my phone via a small magnetic plate attached to the case. The magnet is rock-solid; my phone doesn't move an iota once placed. Due to the tapered design, the mount also functions as a stand for watching movies — clever!
Muji Sewing Kit ($5): This tiny kit features a few needles, needle threader (where have you been all my life), thread in neutral colors, safety pins, and a pair of mini scissors. The scissors easily get the most use trimming the loose thread I inevitably find 5 minutes before my presentations. The kit is TSA/CATSA (Canada) compliant so it's safe in your carry-on, and there's some space to add your own buttons too.
10/28/20