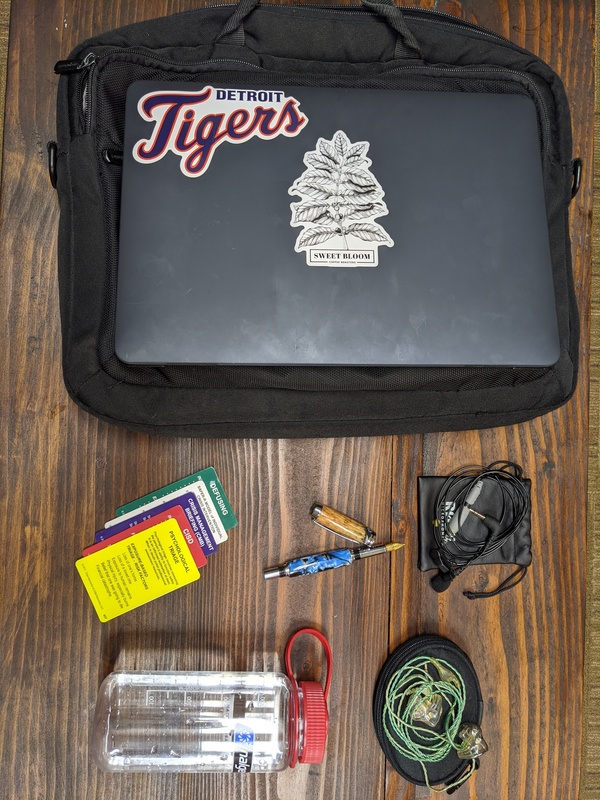 What's in my bag? issue #75
Sign up here to get What's in my bag? a week early in your inbox.
Nathan Didlake is a pastor and police chaplain. Daily, he provides what many call "the ministry of presence" to his community. Other than his religious text (the Bible), here are the essentials he brings along.
About the bag
My bag is a cheapo AmazonBasics Laptop bag ($17). I purchased the 15.6in version to accommodate my macbook, mostly because it was cost effective. But here we are, five years later, it's still rocking my daily carry.
What's inside the bag
Psychological Triage & Critical Incident Quick Reference Cards ($11)
As a police chaplain, I get the privilege of entering into crisis scenes where people have just experienced some form of trauma. My job is more than to sit and be a comfort: it's to stabilize the person during their distress by helping them feel an immediate sense of safety and by helping them understand that what they're feeling is completely normal for people who have experienced stress on that level. Before entering a scene, I thumb through these cards to remind myself of the highlights.
Rode SmartLav+ Lavalier Condenser Microphone ($79)
Part of being a chaplain and a pastor is the privilege of speaking into lives during some of their greatest celebrations, transitions, and memorials. Many times, people want a token of the experience… in the form of some audio or video archive. I had consistently found that recording high-quality audio was next to impossible, so I found a way to do it myself… on the fly. This device plugs right into my phone and provides near-studio quality audio… which is a meaningful way for me to help a person further, when they are wishing to remember a wedding, funeral, or celebration.
64Audio In-Ear Monitors ($1300)
Leading people in religious services oftentimes includes needing to hear what you're doing, especially if the room or field in which you're leading seems to dissipate sound. So I purchased some 64 Audio In-Ear microphones to help with in-ear monitoring. The ones I have aren't the exact ones they sell now, but these are the best in-ear monitors I've ever heard.
Fountain Pen ($63)
My wrists are (basically) pre-carpal tunnel, so I needed to find a way to jot down thoughts while putting as little strain on my wrists as possible. This fountain pen was custom made from a congregant who wanted to say thanks. It's also the finest pen I've ever used. I highly recommend learning to use and maintain a fountain pen, if writing by hand is something you enjoy (or need to do) … all while caring for wrists that are sensitive to stress.
11/11/20