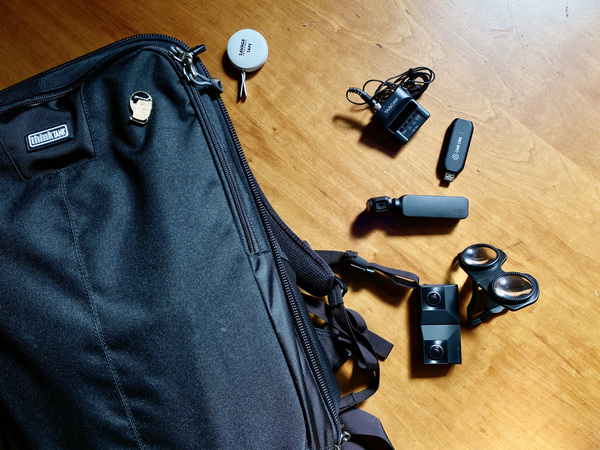 What's in my bag? issue #34
Sign up here to get What's in my bag? a week early in your inbox.
Norman Chan is the Co-founder and Editor of Adam Savage's Tested.com. You can find him on Twitter @nchan and on Instagram @normchan.
About the bag
My camera bag is the ThinkTank Airport Essentials ($199), which I love because it's no bigger than a normal backpack but fits all my camera gear, 13-inch laptop, and tablet.
Insta360 EVO ($435)
Making stereo video to watch in VR headsets used to require hacking together two GoPros, but many companies now make turnkey products that let you quickly film beautiful stereo 180-degree video. This past year, I've been using the Insta360 EVO to film my newborn every few weeks, and our family relishes the ability to relive his growth in a medium that's far more immersive than just photos or video.
Elgato Cam Link 4K ($129)
If you need to capture video from a digital camera, game console, or any HDMI source, this capture card in a USB stick form factor does the trick really well. We've used it to do green screen capture, compositing, and then live streaming from a variety of sources.
DJI Osmo Pocket ($359)
Digital image stabilization has come a long way, but there's still some magic in a three-axis gimbal to stabilize video. I really love DJI's Osmo pocket for its miniscule form factor, image quality, and built-in screen viewfinder. It's really fun to hold it low and get stable shots from angles you wouldn't normally hold your smartphone.
Tascam DR-10L ($175)
Audio clarity is the number one thing that can level up a video, and built-in mics are no match for a dedicated lav. I've been using the Tascam DR-10 compact recorder for years, which records from a lav mic directly to a micro SD card and can even pass through to a wireless transmitter. Great for conventions where wireless microphone systems may run into interference.
01/29/20