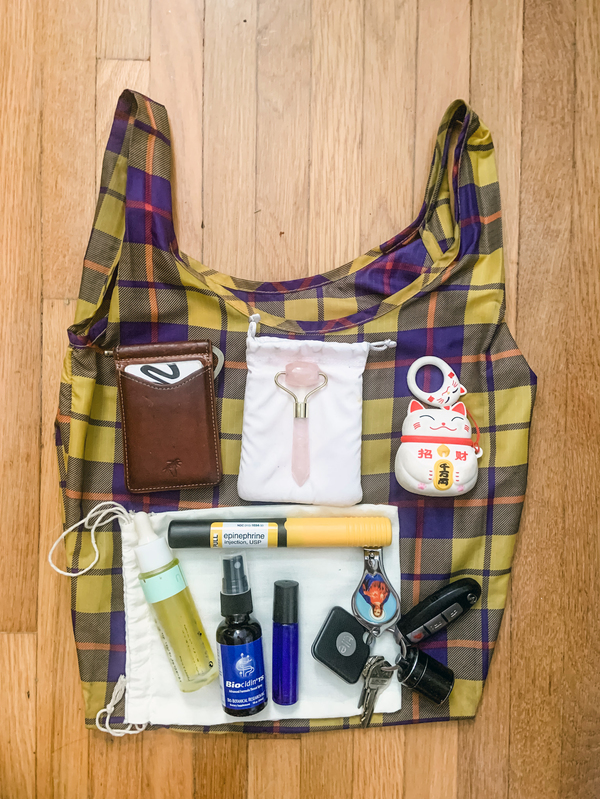 What's in my bag? issue #48
Sign up here to get What's in my bag? a week early in your inbox.
Paige Eden is a Los Angeles based student of Life, Death and Rebirth. After receiving an MS in Business Analytics from USC and working in Finance for two years, she has recently left to focus on healing from a chronic medical condition and to pursue her passion in reproductive sovereignty. While she figures out how to make a living talking about vaginas, she is studying with Yaya Rivera Merriman as part of the Medicine Mandala Green Magic Apprenticeship.
About the bag
My bag is the Yellow Tartan Baby Baggu. I have a few of these in different prints but this is the one I have been using the last few months. It's my go-to casual day-bag. Super easy to clean if it gets dirty — I just throw it in the wash.
What's in the bag
Eargasm High Fidelity Earplugs ($35)
I carry these earplugs with me everywhere. They have saved me from hearing loss and discomfort in unexpected situations, like the time the the sound system at a comedy show was inexplicably and extremely loud. They come with a little keychain carry case which makes remembering them for concerts super easy, too. The quality is also excellent and I actually find that I can hear loud music more clearly when I have them in.
Mini Rose Quartz Facial Roller ($25)
I'm unashamedly addicted to skincare. I also have TMJ and was working at a job where I had to stare at a glowing blue screen all day, causing tension headaches. This facial roller meets all three of these needs. I use it to help relieve facial and jaw tension, move stagnant lymph and prevent wrinkles.
Maneki-Neko (Lucky Cat) Airpod Case ($18)
My coworker got our team AirPod cases for the holidays (I worked at an investment bank so everyone has AirPods lol). Everybody else's cases were a solid color but she got me this one because she knows I love cats! I think it is soooo cute, and the size and texture make it really easy to find my AirPods in my bag.
Minimalist Leather Wallet ($25)
This wallet helps me keep my wallet clutter to a minimum. There just isn't room for supermarket member cards (use your phone number), gift cards for restaurants in the Valley you'll never go to (give it to someone who lives near there) or your real estate sales license you've never used a day in your life (why did I get that again?). No zippers mean no breaking. It's high quality and I've had it for years.
Small Pouches ($11/25pk)
I've acquired an array of small cloth pouches through various product packagings. I recently started using them to organize the small assortment of personal care items within my bag and it's been quite an improvement. It saves me rummaging through my bag to find the right small tube shaped item. Right now It's holding my Epipen, some homemade multipurpose moisturizing oil, a homemade headache relief essential oil roller and Biocidin antiviral throat spray.
05/6/20