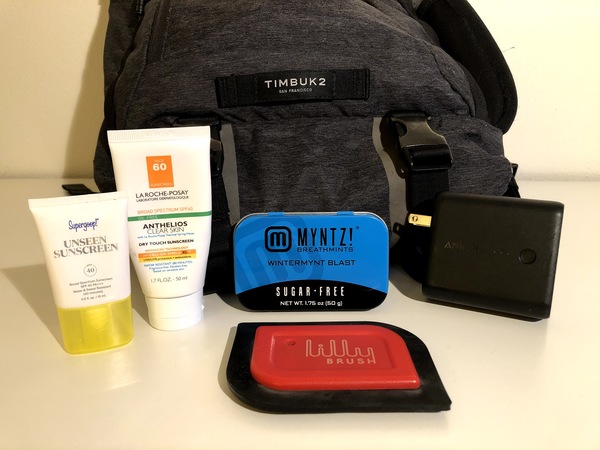 What's in my bag? issue #84
Sign up here to get What's in my bag? a week early in your inbox.
Roy Chi is Business Data Analyst for Google's Hardware Devices division. As a tech professional, he's constantly in need of being connected to his electronics at all times. Roy loves traveling, dining out, and exploring the Bay Area. He has a 2-year-old Welsh Corgi named Gus Gus. Be sure to follow Gus Gus's adventures on Instagram: @corgusgus.
About the bag
After going through countless bags, the one that I've remained loyal to throughout the years is my Timbuk2 Authority Laptop Backpack ($129). It has everything you would ever need in a backpack and, even after many years of use, it still looks and feels almost new. Even better: there's a lifetime warranty from Timbuk2! Perfect for any occasion (work, school, travel), this is by far my favorite daily bag.
What's inside the bag
La Roche-Posay Anthelios Clear Skin Sunscreen ($20):
As someone with oily, acne-prone skin, finding a good face sunscreen is tough. After going through numerous brands (followed by numerous breakouts), I finally found the perfect sunscreen for my face. The Anthelios Clear Skin sunscreen from La Roche-Posay is amazing — it's dry to touch (no oily shine), has a high 60 SPF sun protection, and doesn't cause breakouts!
I've also included my close runner-up face sunscreen: Supergoop's Unseen Sunscreen ($17 – $34). It has a lower SPF (40 SPF), so I only use this one if I'm not going to be outdoors for too long. It has the same amazing qualities as the La Roche-Posay and has an incredibly lightweight, invisible feel.
Myntz! Breathmints ($3):
These are the best mints on the market! I've been using Myntz for more than decade and they're always a staple in my backpack for after my morning coffee, after daytime meals, or before any important meetings. These mints taste great and work well. I usually pick them up at Trader Joe's, but you can also order them online.
Anker PowerCore Fusion Portable & Wall Charger ($36):
Like many others, my biggest fear throughout the day is that my phone battery is going to deplete before I get home. Although there are numerous portable power banks available on the market, the beauty of the Anker PowerCore Fusion charger is that it's both a wall charger and a portable power bank. That means that you can plug it directly into a wall socket (to charge your electronics or to recharge the power bank) and also take it with you to charge on-the-go. It's compact, lightweight, and has the high-speed charging you expect from Anker.
Lilly Brush Mini Dog Fur Remover ($12):
As the owner of a dog that sheds uncontrollably, I have come to believe that the Lilly Brush Mini Dog Fur Remover just might be the best invention on the planet. You wouldn't expect much from just looking at it, but this little gadget can easily scrape up dog fur from pretty much any surface (couches, car seats, floormats, clothing). Any dog owner knows that cleaning up dog fur inside a car is a nightmare, but I guarantee that after using the Lilly Brush, you'll never believe how easy it is to scrape and collect dog fur. A must-have for any owner of a shedding dog!
01/13/21
(What's in YOUR bag? We want to hear about unusual and unusually useful items that you carry in your bag. Start by sending an email to claudia@cool-tools.org with a photo of the things in your bag (you can use your phone). If you get a reply from us, fill out the form. We'll pay you $50 if we run your submission in our What's in my bag? newsletter and blog. — editors)