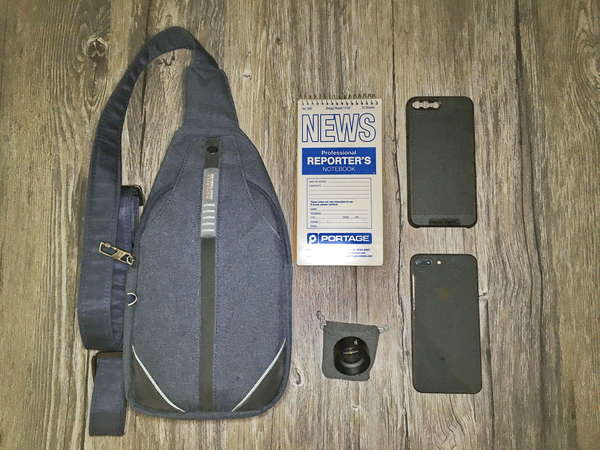 What's in my desk? issue #104
Sign up here to get What's in my bag? a week early in your inbox.
I'm an internationally published freelance photojournalist. I've covered protests in Ferguson, the fight for abortion rights in Missouri, and too many political races! My photos have been published in prominent news outlets, in a book about policing in Ferguson and last year in the documentary "What Killed Michael Brown?" — Steve Pellegrino
About the bag
I looked at a lot of sling bags before choosing the Waterfly Sling ($22). It's large enough to carry what I need, but not too large that I would feel uncomfortable carrying it everywhere. It's on me whenever I leave the house. I like that I no longer carry things in my pockets!
What's inside the bag
As a photojournalist I always need to be prepared to shoot a news story. When I'm not on an assignment, I don't carry my Nikon cameras. But sometimes news stories happen when you least expect them to. My every day set up allows me to have the tools I need to shoot without the bulky gear. Smartphone photography is astonishingly advanced. At the center of my mobile workflow is aniPhone 8+ ($279). I can shoot stills and video from the same device and also transmit those images to media outlets. It's a few generations behind the current iPhone, but that doesn't impact the quality of the images.
The Moment iPhone Case ($50) not only protects the phone, but also provides the lens mount for the 58mm telephoto lens. Using an external lens with a smartphone can be frustrating when aligning it in front of the camera's native lens. The Moment case takes away that frustration with a perfect alignment every time you attach it to the case. The case allows me to mount the lens in front of either the iPhone's wide or telephoto lenses.
Moment lenses ($130) are a bit pricey, but they are some of the sharpest lenses you'll find for smartphones. Mounting the 58mm lens in front of either the iPhone's native wide or telephoto lenses gives me a lot of versatility in a breaking news situation.
There is a lot of information that has to be added to a news photograph. Description, caption, keywords and other meta data. The Portage Reporter's Notebook ($22, 12pk) is the perfect size to gather that data on the scene. Prior to using my bag, the notebook fit perfectly in my back pocket.
06/2/21