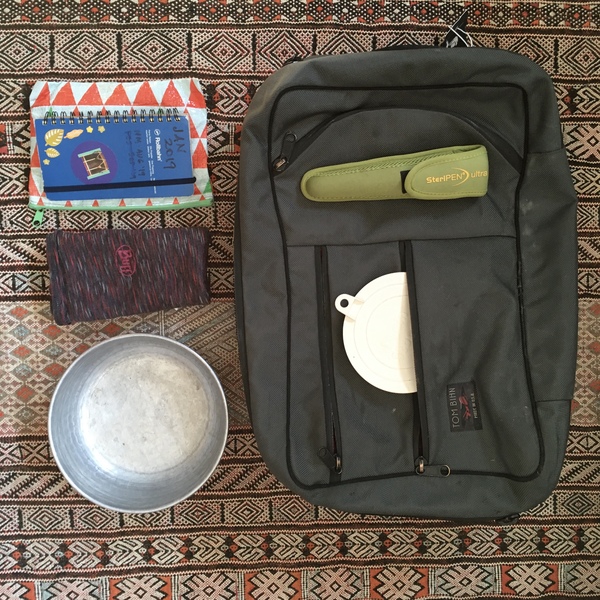 What's in my bag? issue #42
Sign up here to get What's in my bag? a week early in your inbox.
Zora O'Neill is a guidebook writer and the author of the travel memoir All Strangers Are Kin: Adventures in Arabic and the Arab World, which won the SATW Lowell Thomas Award for Best Travel Book of 2016. She is on Twitter at @zora and Instagram @zoraoneill.
About the bag
About six years ago I got sick of the noise of my rolly bag and switched to the Tom Bihn Western Flyer, a convertible backpack. It holds nearly as much as a rollaboard, but it's small enough to fit under the seat in on the plane (where I can use it as a footrest). I almost always have it in backpack mode, but if I do check it, I can tuck the straps away, so they don't get caught on anything. The fabric is super-tough, and the internal divisions are well designed; I also use packing cubes.
What's inside the bag
Laundry kit
A generic rubber drain stopper is key for doing laundry on the road. I keep one pocket of my bag always packed with this, some chunks of solid laundry soap and a coiled elastic laundry line. (My coworkers gave me the laundry line as a going-away-from-job gift in 2000, and I still have it!)
SteriPen
This is my second SteriPen — better than the first, because it's rechargeable. I have used it for years and years. It zaps microbes with ultraviolet light, and it just feels like a miracle to be able to "make" water anywhere I am, instead of making that late-night run to the nearest shop for a plastic bottle. The only drawback is that it can look a bit like a sex toy in airport X-rays, and has a couple of times gotten me a bit more scrutiny than deserved.
Delfonics Rollbahn notebook
Delfonics Rollbahn notebooks are the best: elastic to keep it closed, pockets in the back, good-quality paper, and spiral-bound, so it opens flat. Unfortunately, the tall, skinny format doesn't seem to be available in the US, but the B6 ones are good as well. (The bag behind the notebook is from HEMA, the Dutch chain that's excellent for practical, sturdy items of all kinds.)
Buff Lightweight Merino Wool
The Buff merino gaiter is a relatively new addition to my routine, but I wish I'd had it years ago! It's pretty lightweight wool, warm but also great for using as a face mask on the plane, to keep yourself from getting dehydrated, which also helps with jet lag.
Hammam Bath Bowl
Years ago, I stayed at budget hotel in Turkey with a crappy showerhead as well as a hammam-style bath: just a tap, a bucket and a bowl. The latter option was infinitely superior: lukewarm water is fine when it's splashed where you want it, rather than trickling onto your head. So now if I'm going somewhere I might encounter low-pressure showers, I always pack my own hammam bowl. This one is lightweight aluminum, about 7.5 inches wide and 2 inches deep, from a museum in Lebanon, but any similar format will work — look in dollar stores for plastic, or for cheap stainless pet-food bowls. Or, heck, get an actual one from Turkey. Bonus: good for protecting small fragile items.
03/25/20