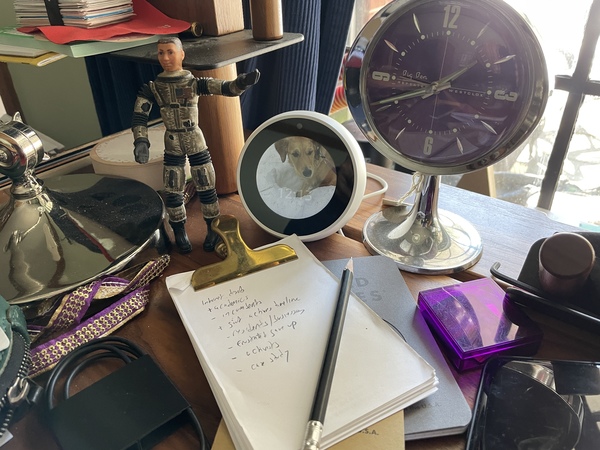 What's in my desk? issue #94
I am a senior writer at Fortune magazine based in Boston. I've been a business journalist for a few decades at outlets large and small, some still around and some long gone. — Aaron Pressman
About the desk
My desk is the standing version of Artifox's Desk in walnut. It's where I do most of my writing, researching and procrastinating as a professional journalist and occasional blogger and podcaster. Despite great hidden cord management features, it has failed to tame my messy tendencies. It also creates a perfect shady spot on the floor for my dog Luna to nap.
What's in my desk
The Amazon Echo Spot. This little piece of voice-controlled tech comes in handy for shouting out math problems ("Alexa, what's 126 times 18?"), currency conversions, or need-to-know sports scores. It also shuffles pictures of my cute dog, Luna.
Westclox "Big Ben" alarm clock. My wife Whitney bought me this beautiful, non-working clock at a stall in the Old Spitalfields Market in London because the bright purple face is my favorite color and matches my office perfectly. That it doesn't tell time makes me stop and take a breath every time I look at it. They are often for sale on eBay.
A big bronze paper clip. I liberated this paper clip and its included (refillable) stack of blank paper from a fancy hotel room in Aspen because the idea of having a scratch pad for making lists and jotting notes was just too handy to pass up. Plus it never needs to be rebooted.
Major Matt Mason action figure. The sole surviving member of a larger force from my 1960s childhood, Major Mason is courage and curiosity embodied, two traits I need more of all the time. His helmet, space ship, and the rest of the crew are long gone. You can find the major and all of his mates for sale on eBay however.
03/24/21