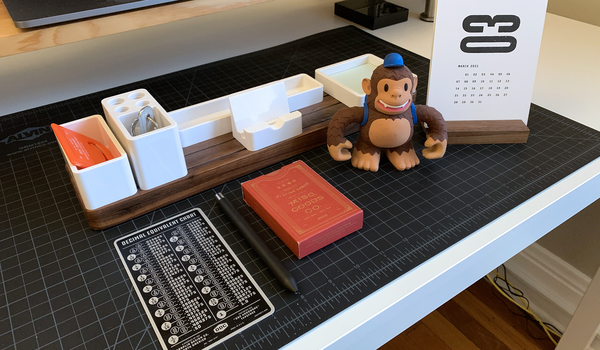 What's in my desk? issue #103
Sign up here to get What's in my bag? a week early in your inbox.
I'm a UX/UI designer working in fintech, and based in Cleveland, Ohio. Previously, I worked as a graphic designer doing mostly print and branding projects at Walt Disney World, Tavistock Group and The Ohio State University. Outside of work, I like to explore new places around Cleveland, rock climb, listen to business and comedy podcasts and cook Japanese food. — Adam Cassidy
I started working from home back in March 2020 when the pandemic hit. Since then I've worked on making my desk and home office a more productive space. I share the office in our apartment with my girlfriend and we keep each other company. Throughout the day, I'll listen to podcasts, YouTube videos and music while I'm doing design work. I also like to make monthly playlists on Spotify.
What's in the desk
Wood Type Letterpress Calendar by Igloo Letterpress ($32). The desk calendar was printed by a woman-owned small business, Igloo Letterpress, in Worthington, Ohio, and the wood stand was handmade by Moore Wood Type. Igloo makes all kinds of great printed products and even offers classes. I have taken both a letterpress printing and book binding class and can't recommend them enough.
Gather by Ugmonk (Sold out). This modular desk organizer from Ugmonk holds pens, post-it notes and my phone. Made from solid walnut, you can configure the white plastic pieces however you like. Ugmonk also makes some great t-shirts and other desk accessories.
Handheld Decimal Equivalent Chart by Draplin Design Co ($10). I've been a fan of Aaron Draplin's work since I was a graphic design student in college and got to meet him at an event a few years ago. This handheld decimal equivalent chart is one of his latest products and is helpful for looking up fraction and decimal conversions—which I use constantly when doing print design work.
Playing Cards from Misc Goods Co ($12). I started doing magic when I was a kid, and have since collected many decks of cards over the years. This deck was illustrated by designer Tyler Deeb and was the product that launched his business, Misc Goods Co. It's one of the coolest and most unique decks that I own.
05/26/21