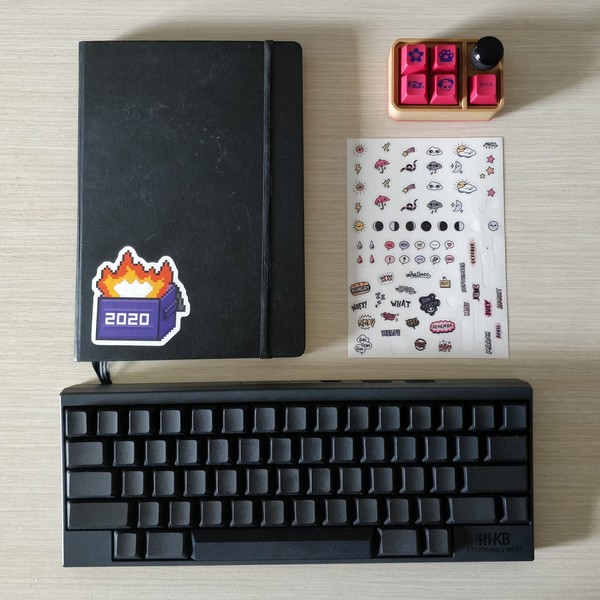 What's in my desk? issue #102
Sign up here to get What's in my bag? a week early in your inbox.
I'm a front-end engineer who lives in Heraklion, Crete. When I'm not trying to learn more about my craft, I indulge myself in the hobby of mechanical keyboards and video games. The latter involves more reading about its history than playing nowadays. I also really like Sleep (the band). Feel free to check out my site at alex.katopod.is.— Alexandros Katopodis
About the work
My work involves lots of typing and screen staring, so it's of the utmost importance to take breaks. Using a timer app is really helpful in separating your work into chunks and being reminded to take a break. My personal favorite is Horo for the Mac, simple and well designed. To enhance your break and your senses, have a square of chocolate with a high percentage of cocoa (over 90% for me). Leave it to melt in your mouth for further enjoyment.
What's in the desk
Happy Hacking Keyboard Professional2
The current pandemic only accelerated my descent into the world of keyboards. The HHKB sports a near symmetrical key layout that encourages your fingers to stay on the home row (A, S, D, and F for the left hand and J, K, L, and the semicolon for the right) by moving the control key to where the caps lock key was and moving the backspace key right above the enter key among other things. The lack of arrow keys is something that needs getting used to, no doubt. After the initial adjustment period I've got to say that this is a joy to type on.
Little Bento Macropad
Yet another result of the descent mentioned above. This little gadget offers some extra keys that can be used for custom actions like playback control. The rotary knob naturally maps to things like volume control and tab navigation when browsing the web. Originally designed by u/nguyedt on reddit and made possible with the electronics and 3d printing skills of a good friend.
Mais2 sticker set
A sheet of little whimsical stickers designed by MAIS2. I use them to brighten up my notebook pages in mostly nonsensical ways. Sometimes other people's notebooks or laptops too.
LEUCHTTURM1917 A5 Dotted Notebook
My current notebook of choice. With its numbered pages, two page index, and lightly dotted grid, it ticks off most of the boxes for what I'm looking for in a notebook. Having tried squared and lined pages in the past, I find that dotted pages strike the right balance for ease of drawing and legibility.
05/19/21