What's in my … ? issue #116
Sign up here to get What's in my bag? a week early in your inbox.
D.L. Cade is a research scientist and tech writer. By day, he studies color vision in the Neitz lab at the University of Washington, where he plans to get his PhD in Neuroscience; by night, he reviews the latest tech for creative professionals, focusing on computers and monitors.
My desk is a Vari Electric Standing Desk 60×30. It was a housewarming gift from my family when I moved to Seattle, and I absolutely love it! It's huge, and sturdy, and it keeps me from spending the entire day sitting on my lazy bum.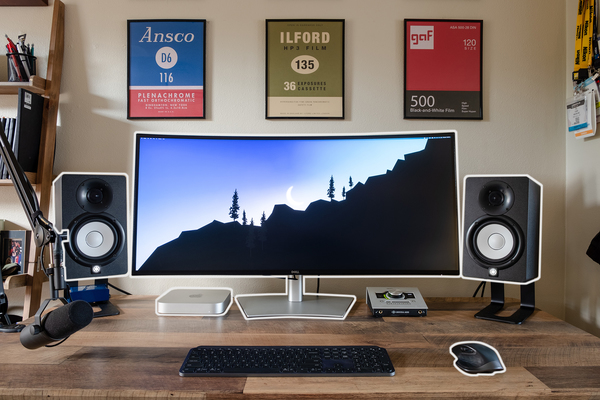 Apple Mac mini
Apple's latest Mac mini with the Apple Silicon M1 chip is the perfect desktop computer for me. It's shockingly powerful for its size and extremely affordable for an Apple product. It's not the most powerful desktop computer out there, not by a long shot, but it punches way above its price point and takes up almost no space on my desk.
Yamaha HS5 Speakers
These speakers were a housewarming gift from my audiophile brother, and they have ruined me. I can never buy regular computer speakers again. Paired with a proper audio interface like the Apollo Twin (also pictured), they create an immersive audio experience that absolutely blew my mind the first time I hooked them up.
Dell U4021QW Monitor
One of the perks of being a tech reviewer is getting to try some really impressive gear before it's available to the public, and this monitor is my latest toy. It's a 40-inch, 21:9 aspect ratio monster with 5K-by-2K resolution and impressive color accuracy, which comes in handy when you review gear for photographers and video editors. For me, it's been a revelation for multi-tasking, since I can comfortably fit three windows side-by-side-by-side when I'm doing research for a review.
Logitech MX Master 2S Mouse
I've just about killed my MX Master 2S and may need to replace it with the newer Version 3 soon, but it's served me well for years. My favorite features are probably the secondary scroll wheel (which I use for zoom in apps like Photoshop), the two customizable buttons on the side (which I use to switch between virtual desktops), and the fact that the spin wheel automatically switches from clicky scroll to free-spin when you flick it. Plus it can be programmed to connect to three separate devices — super convenient when you're reviewing multiple computers.
08/25/21