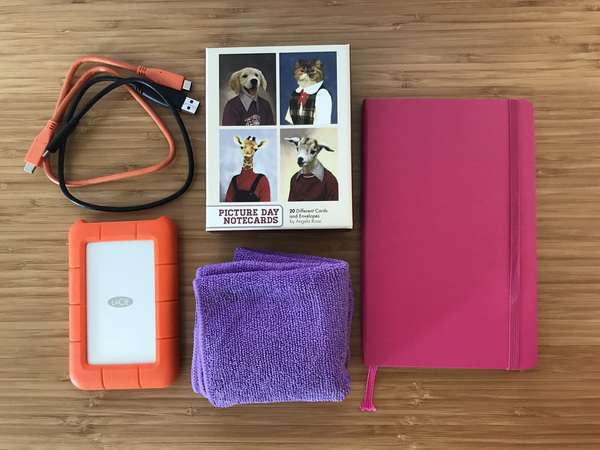 What's in my ... ? issue #111
Julie Sokolow is the director of the new documentary Barefoot: The Mark Baumer Story. The film profiles an activist who walked barefoot across America to protest climate change. She's also the director of the feature documentaries Woman on Fire and Aspie Seeks Love. You can find her on Twitter @juliesokolow.
A few years ago, I splurged on a gorgeous bamboo sit/stand desk from UPLIFT. I like my 72" x 30" model because it comfortably fits two 27″ monitors and much more. Having this amount of desk space really helps with video editing! However, I'm embarrassed to say that I almost never use the desk's standing function — although I aspire to get in the habit.
LaCie Rugged USB-C Drive ($110):
This lovely little backup drive is as fashionable as it is durable (it is supposedly drop, dust, and water resistant, though I've never put it to the test). The biggest perk for me is that it is both USB-C and USB 3.0 compatible. I seamlessly use it with both my old desktop and new laptop computers without needing any cumbersome adapter cables.
Picture Day Notecards ($18):
I have a drawer crammed full of assorted cards and these are some of my favorites. Each of the 20 cards features a different animal in a hilariously awkward school photo. All of the animals have unique names (e.g. – Ryan Raccoon, Katie Kitten, etc). Since they're blank on the inside, I've used them as birthday cards, thank you cards, and everything in between.
Screen Mom Microfiber Cloths ($13, 4pk):
These are my favorite microfiber cloths for cleaning computer screens. They're very large (15.75"x15.75"), which allows me to easily dampen one corner of the cloth with water and alternate between cleaning with the damp and dry ends. Also, I've found that these towels are unparalleled in their ability to render smudgy eyeglasses sparkling clean! They're easy to wash and reuse as well.
Moleskine Weekly Planner ($23):
I've been using Moleskine planners for over a decade and I don't think I'll ever stop! This one is the perfect size at 5" by 8.25", which is big enough to get all of my weekly goals down, but small enough to fit in almost any bag. Lastly, looking at warm, bright colors makes me happy (and there's science behind that), which is why I picked this planner in "Bougainvillea Pink".
07/21/21